News
Govt to interfere on KTM-Delhi air route as airlines show monopoly in air fare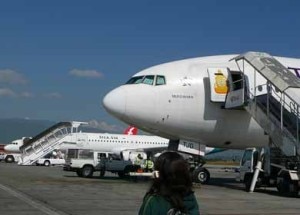 KATHMANDU, Nepal – After the Delhi bound airliners from Tribhuvan International Airport hiked and fixed airfare unilaterally, which according to travel agents and passengers are 'very expensive', the government is planning to check that.
The airliners have been taking the opportunity to earn more at the time when Nepali national flag carrier Nepal Airlines Corporation cancelled its Delhi flight and some others stopped flights to Kathmandu.
Presently, the airlines operating in the Kathmandu Delhi sector are charging at least Rs 45000 for about 1 hour flight. Travel operators said the cost is very high as the NAC charges Rs 21500 for 4.5 hours flight to Kuala Lumpur and the cost for 5 hour long flight to Doha from Kathmandu is only 28 thousand rupees.
"The present situation is due to lack of proper rules to monitor such malpractices," travel operators said. They said that the airline companies themselves hide low price tickets and put the high price one in the selling lists once the demand shores.
"And since New Delhi, the Indian capital, is hub to many travellers going abroad through Kathmandu, airline operators hike ticket price with the demand increasing."
Nepal Tourism Board has asked the Ministry of Culture, Tourism and Civil Aviation in written form to check the price monopoly after its Director was forced to buy the same high rate ticket last week.
"Since we don't have the mechanism and policy to set minimum and maximum fare for international flights, airliners set their monopoly like this in air fare," a travel operator said, adding that their representative organizations have already asked the government to breakdown such 'syndicate system' in any form.