News
CAAN working to delist country's aviation sector from EU's blacklist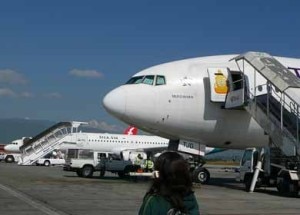 KATHMANDU, Nepal – Civil Aviation Authority of Nepal (CAAN) has called for the international experts to study shortcomings of the country's aviation sector, in its bid to lift up the Nepali domestic airline companies from the blacklist of European Union.
For that the CAAN has called on aviation experts from Singapore to short out important security measures that lacks in Nepali aviation sector and to remove ban. The expert team is scheduled to come here on January 3.
The European Commission has recently banned the Nepali domestic airline companies to operate in EU zone citing deteriorating security situations of the flights and also asked its citizens not to board in any domestic flights.
According to CAAN officials, the experts would carry out the through study of the aviation sector here and suggests the CAAN for any changes required.
Due to political pressure and other internal reasons, many airline companies those are due to meet set requirements, are enjoying operating license. And the International Civil Aviation Organization (ICAO) has long been warning the CAAN in this. The ICAO report had also pictured the Nepali aviation sector below the average.
The ICAO during its last audit had pointed out 57 shortcomings in Nepali aviation sector. According to the CAAN the number has been decreased to 45 this time. "We will bring the number down to 39 within two months," the official said adding that the CAAN will then approach the international regulating body for average status.
The CAAN is optimistic to remove from EU's aviation safety list after some immediate changes and reforms.
Meanwhile, Tourism Secretary Sushil Ghimire left for Beijing on Thursday for final inspection of the China made aircraft. On Nov 29, the government s of Nepal and China signed a grant and concessional loan agreement worth Rs 6.67 billion (408m RMB) to procure six aircraft. Out of the six aircraft that Nepal has decided to buy from China, the government will bring the two gifted by the northern neighbour in the first phase, said Minister for Tourism and Civil Aviation Ram Kumar Shrestha.
As part of the accord, China will provide a 58-seater MA60 and a 19-seater Y12e worth Rs 2.94 billion as gift while a soft loan of Rs 3.72 billion will be available to buy one MA60 and three Y12e planes.
At the time when aviation experts here are blaming the EU of imposing ban on the background that Nepal singed agreement to procure planes from China, visit of the top government official is seen with great concern. Some say that the business war between the commercial giants China and European aviation market has labeled Nepal with the ban. "Had Nepal not decided to procure aircrafts from China, there would not be ban on Nepal's part," they said.