News
Govt makes license mandatory for adventurous, recreational tourism activities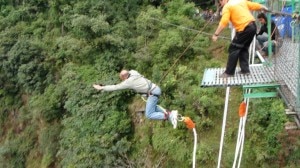 KATHMANDU, Nepal – The government has made it mandatory for operators of adventurous and recreational tourism activities to get license from the Tourism Industry Division under the Ministry of Culture, Tourism and Civil Aviation before the commencement of business.
The provision relating such activities has been revised recently making the license compulsory in the Tourism Industry Service Delivery Directive 2013.
The revised provision is expected to stress the demand of tourism service operators who have long been complaining about the unauthorized operators and their irresponsible activities. Officials say that the new provision is aimed at regulating tourism related activities, which were not registered with the division so far, and provide assurance to the foreigners about their authenticity.
According to the new provision, all companies operating any kind of adventurous and recreational activities for foreigners or Nepalis must seek license from the division.
Adventurous and recreational activities include bungee jumping, canyoning, sky diving, zip flying, paragliding, ballooning, cable car, amusement parks and fun parks, among others.
Aviation activities like paragliding and hang gliding need to get Air Sports Operator Certificate (ASOC) from Flight Safety Standard Department under the Civil Aviation Authority of Nepal.
As per the directive, companies applying for the license need to submit feasibility study report, details and map of the place where the business is to be operated including landownership or agreement certificate, citizenship and bio-data of shareholders, copies of company registration and industry registration certificate and prospectus, report of Initial Environmental Examination (IEE) and Environmental Impact Assessment (EIA), and documents related to insurance, among others.
The division has fixed license fee (valid for five years) and renewal fee depending on the type of business. For Fun Park with cable car the government has fixed Rs 75,000 as license fee and Rs 35,000 as renewal fee, while for bungee jumping license fee and renewal fee has been fixed at Rs 40,000 and Rs 20,000, respectively. While license and renewal fee for canyoning has been fixed at Rs 30,000 and Rs 20,000, respectively, license fee of Rs 50,000 and renewal fee of Rs 25,000 have been fixed for cable car, amusement park and fun park.