News
Voters leaving capital city en masse to vote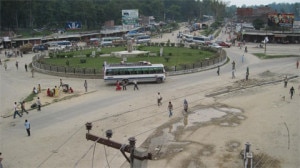 KATHMANDU, Nepal – Hundreds of voters are leaving for their home to participate in the November 19 elections for the Constituent Assembly, notwithstanding the vehicular strike called by agitating 33-party alliance led by CPN-Maoist.  The bandh enforcers are targeting the passenger buses with even petrol bombs, but the citizens are committed to vote. They are heading to their home to vote for the new CA.
The number of people leaving in Kathmandu leave the city considerably during festivals like Dashain and Tihar. But due to upcoming elections the capital valley is likely to respite this time with only its inhabitants as temporary residents will head for his home town to vote.
According to the traffic police, a significant number of long and short route buses with day and night service are leaving Kathmandu valley through various exit points. However, it seems that the long-distance travellers are reluctant to go home in comparison to the short-route passengers. And, the passengers themselves said they are not much convinced with the security in the routes.
Madan Poudyal, a lecturer at a college in Kathmandu said that he want to go home for vote but concerned with the security of his family.
"I might be hurt by them (Baidya´s cadres) on my way home. But, come what may, I will surely cast my vote," he said.
Hundreds of people, like Poudyal, are now leaving for the respective constituencies every day. But, despite government's repeated assurances of security, the rise in violent activities allegedly carried out by the CPN-Maoist-led fringe parties, which have announced to foil the CA elections has prevented a large number of voters residing in the Valley from travelling to their villages.
According to the Traffic Police Division, a total of 7,757 vehicles including two-wheelers have left the Valley since the alliance called for bandh, until Friday which is one third of the usual number. Entrepreneurs said political parties and their candidates are using a large share of the vehicles to ferry voters this time.
Around 2,500-3,000 vehicles leave Kathmandu Valley each day with a similar number entering on normal days with the number go up during festivals and special occasions, the TPD said.