News
Vehicles, not all, but start ferrying; arsonists continue terrorizing public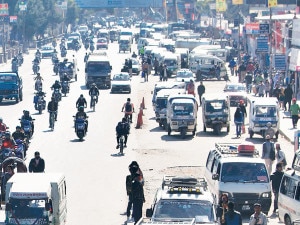 KATHMANDU, Nepal- Third day of general strike called by 33-party alliance targeting the upcoming elections gave a different look as both private and public vehicles made their way to the streets. Though the road traffic was not as it used to be, a countable number of vehicles both two-wheelers and four wheelers ply on the streets Wednesday.
Both public and private vehicles remained off the road on Monday and Tuesday after the bandh enforcers target vehicles plying on the roads. As the arsonists even hurled bombs to the moving buses and torched buses with passengers onboard, people were scared to takeout their vehicles. But since the government pledge considerable amount of compensation in case of any damages and provide adequate security motorists and their organizations have decided to defy the strike.
While All Nepal Transportation Entrepreneurs' Organization, an umbrella organization of transporters in the country has officially decided to ply public vehicles both carrying passengers and goods, Federation of Nepalese Chamber of Commerce and Industries- an umbrella organization of Nepali business community- has also called to defy bandh and run industries from Wednesday.
The FNCCI has also organized a peace rally against the bandh that comprise the civil society, human rights activities and people in general Wednesday.
Meanwhile, educational institutions have not opened on Wednesday as well as the agitating party has not called off bandh. All most all the schools and colleges in the Kathmandu valley remained shut since Monday. "We cannot risk our children's safety as the strike is still there," said principal Himalayan Boarding High School Khem Dhakal. "What if the arsonists vandalized or torched the bus carrying school children," he questioned adding that even a small incident in the road would have negative impact on the children's mind.
Likewise, guardians are worried about the study of their children. "School was opened after a month-long Dashain Tihar vacation on Sunday and again closed from Monday," said a guardian, adding, "I don't know how could they capture the whole course amid these circumstances".
Meanwhile, the bandh enforcers continue with vandalism and arson on Wednesday as well. According to the police, scores of bandh enforcers have been arrested from different locations around the capital valley.
Police arrested 11 people in Kathmandu and three in Lalitpur for vandalism and arson targeted at public vehicles. According to the Metropolitan Police Commissioner's Office, a group hurled a 'petrol bomb' packed in a bottle at a passenger bus in Chabahil, injuring one. Police subsequently arrested two suspects.
In another incident, a group hurled a petrol bomb at a running microbus in Lalitpur, early in the morning. One passenger suffered minor injuries in the incident, police said. According to the police, the windscreen of the microbus was damaged in the attack.
Also five taxis (Ba 1 Cha 7993, Ba 1 Cha 1962, BA 1 JA 7193, BA 1 JA 7840, BA 1 JA 7060) and a three-wheeler (Ba 1 Ha 3623) were vandalized at various locations around the valley.
The arsonists have even planted bombs like suspicious objects at various places. "Those hoaxes were only meant to create terror," police said.