News
CAAN to study air safety thru foreign specialists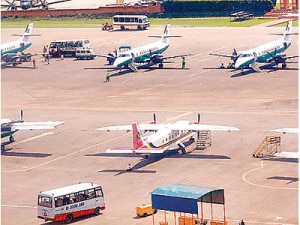 KATHMANDU, Nepal – Amidst the speculations that the European Commission (EC) will blacklist Nepali domestic airlines companies, Civil Aviation Authority of Nepal (CAAN), the government body that regulates airline operation in the country, said that it will study flight operations of domestic airlines and air safety in the Nepali sky through foreign consultants.
The CAAN has made the commitment to study airworthiness hiring foreign specialists during its meeting with the head of the European Union (EU) delegation to Nepal on Monday.
The EU is more concerned to the air safety in Nepali Domestic Airlines after nearly two dozen of its nationals were killed in an air crash here last year. Following the fatal accident that was in line of other similar accidents in the country, the EC has even warned the CAAN to blacklist Nepali domestic airline companies. Besides, results of an International Civil Aviation Organization (ICAO) audit in May 2009 had found Nepal not effectively complying with the majority of international safety standards.
The EC has summoned the CAAN along with airline operators in Nepal to its headquarters this month to discuss on the matter. This is the second time that the EC has called Nepali side to discuss regarding the air safety in the country.
A 10-member Nepali delegation comprising representatives from CAAN and Nepali airlines are scheduled to depart for Brussels, Belgium, on Nov 17 to discuss the matter.
CAAN had invited ICAO's coordination and validation mission to Nepal this July to validate the corrective measures Nepal has adopted to address and resolve deficiencies the ICAO had pointed out in 2009. The mission carried out an on-site audit from July 10-16.
There were two major concerns raised by the EU at Monday's discussion. "First was the status or the corrective measures that Nepal adopted after the ICAO Coordinated Validation Missions (ICVM) audit in 2009," CAAN Director General Ratish Chandra Lal Suman was quoted as saying in the Kantipur daily report Tuesday.
And second, the implementation of the recommendations made by reports on different air crashes, he added.
In a report published recently, the EC said if the results of the ICAO audit or any other relevant safety information indicate that air safety risks in Nepal are not adequately contained, the commission would be forced to take action against Nepal in accordance with the regulation (EC) No 2111/2005. The ICAO has said it will hand over the ICVM report in mid-November due to some operational reasons.
Meanwhile, some aviation experts said that the concerned of EU this time could be for permitting Chinese-made MA60 aircraft to fly in the Nepali skies.
CAAN issued type certificate to the China-made MA60 recently after its technical team gave green signal. However, questions have been raised over the plane's airworthiness as it has not yet been certified by the FAA.