News
Bomb hurled at passenger bus; bombs at several places; vehicles torched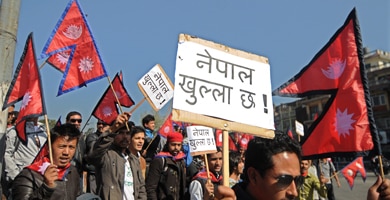 KATHMANDU, Nepal- Unlike other bandhs (general strikes) the government has presented itself tougher against the bandh enforcers while the political parties calling bandh have also used bombs to terrorize publics.
Though the alliance of the 33-political parties led by CPN-Maoist called this a peaceful strike just to boycott the upcoming elections which they said "anti-nationalists' plan", the agitators have planted bombs at various locations terrorizing the general public.
The bandh enforcers have even hurled a bomb at a passenger micro bus on Tuesday morning, making the situation more worse. The agitating alliance of 33 parties has called for a nationwide general strike on Monday and vehicular strike around the clock from Tuesday November 12 to 20, the very next day of the CA elections.
A four-year-old boy was injured when unidentified group hurled a petrol bomb at a running micro bus at Kumaripati in on Tuesday.
The boy, Abhishek Lama, suffered minor injuries and was taken to Patan Hospital when the micro bus (Ba 1 Ja 6288) was hit with the bomb.
The windscreen of the micro bus was damaged in the attack, said Metropolitan Police Range Lalitpur DSP Ram Dutta Joshi.
Meanwhile, at least eight vehicles were torched and vandalized, while over 10 'bombs' were disposed off on Monday, the first day of the 10-day bandh called by the CPN-Maoist-led poll-opposing parties.
Though the government deployed security personnel in large numbers on major roads and highways, vandalism began early morning, while some reported bombs turned out to be a hoax. Police said they arrested over 50 bandh supporters across the country.
Bomb disposal squads of the Nepal Army and Nepal Police were kept busy to dispose off bombs planted in various locations across the country.
The Home Ministry said vehicles were torched in Lalitpur, Kathmandu, Sarlahi, Sindhuli and Sunsari. Two cars were vandalized in Subidhanagar and Baneswor in Kathmandu. A vehicle belonging to Nagarik daily was also set alight at Koteshwor, while two other vehicles were torched in Bhaktapur. Police arrested two persons who were trying to set an Indian vehicle parked in Mitrapark, Kathmandu, on fire.
Spokesperson of the Metropolitan Police Commissioner's Office SSP Hemanta Pal said 41 persons were arrested in Kathmandu Valley for their involvement in various anti-election activities.
Media reports say police have arrested the bandh enforcers in large number from districts as well.