News
Tihar begins with first day of Yamapanchak Friday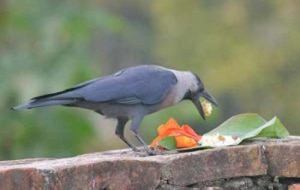 KATHMANDU, Nepal- Tihar, the second greatest festival of all Nepali, begins from Friday worshipping 'Crow', the bird which is taken as the messenger of Yama, the god of death, according to the Hindu beliefs.
People across the nation have been observing the Kaag Tihar or Kaag Puja-worship of crows by offering sweets and dishes today.
Tihar, also known as Yamapanchak and also the festival of lights or Deepawali, is celebrated from Trayodashi of Krishna Paksha (13th day of waning moon in the month of Kartik) to Kartik Shukla Dwitya (2nd day of waxing moon) every year.
The five-day festival mentioned as Yama Panchak in Hindu scriptures comes right after the greatest Hindu festival of Dashain and is celebrated with much enthusiasm throughout the country.
The cawing of the crows symbolizes sadness and grief in the Hindu mythology, so the devotees offer the crows food to avert grief and deaths in their homes.
This festival is considered to be of great importance as it shows reverence to the god of death-Yama- and animals including crow, dog, cow and ox, who maintain close relationship with humans in everyday life.
The second day is Kukur Tihar when dogs are worshiped as protectors of the house.
The third day is famous as Gai Tihar and Laxmi Puja. On this day, cows are worshipped early in the morning. The cow is regarded as the mother and Laxmi, the goddess of wealth by Hindus.
Houses are decorated with colourful lights during Tihar. There is a tradition of people going door-to-door performing traditional bhailo songs. The fourth day of the festival is Govardhan Puja when oxen are worshiped.
Similarly, the Newar community celebrate Mha Puja (worship of oneself) on November 4. The day is also the beginning of Nepal Sambat calendar.
The fifth and the last day of Yama Panchak is Bhai Tika. On this day, sisters put tika on their brothers' forehead and wish them long life and prosperity. According to Panchanga Nirnayak Samitee, the auspicious time for Bhai Tika is 11:27 am.
This day is believed to strengthen the bond between brothers and sisters.
According to the Hindu mythology, Yamuna, the sister of lord Yama, had worshipped his brother with variety of offerings and asked the lord of death not to make the brothers dead on the vary days of Yamapanchak. The Yama, however, citing this is as against the nature promised his sister not to take away the spirit of brothers unless the flower 'Makhamali' and the 'Dubo' fade and the line of oil that sisters make around their brothers dries.