News
Visually impaired man plans Mt. Everest ascent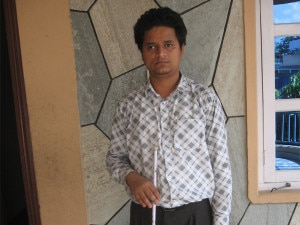 KATHMANDU, Nepal- A visually impaired man from a western district of Baglung has been preparing to climb Mount Everest, the highest peak in the world. Amit KC, 30, has been taking mountaineering training to accomplish his dream.
KC wishes to reach the top of the world by May 2015.
"I want to become the first visually impaired Nepali to scale the Mt Everest," KC was quoted as saying in a Kantipur report.
He has already completed training of rock climbing from Kathmandu and Pokhara. He has a plan to go to Langtang and Khumbu for 47-day advanced training. During the training, he will have to climb 6000 to 5800m high mountains.
"I want to break the wrong perception about the handicapped people that they cannot work as others. If I succeed, it will be a matter of pride for both the country and the handicapped people," the report quoted KC as saying.
KC has also been raising funds these days for the climb. He plans to collect an estimated amount of USD 100,000 for the climb from his well-wishers and donors. Those who want to donate can deposit the amount in Account Number 0022-10-105242 at the Baglung branch of Nepal Bank Limited.
Pasang Trendy Sherpa, who will be his guide for the climbing period, said his expedition is also a matter of national pride. "Given his dedication, patience and perseverance for the training, I am confident that he will achieve his goal."
Meanwhile, the government has earlier announced that it will revise the climbing rules soon. After various incidents and malpractices occurred on the Everest, authorities here have hinted on tighter rules for the climbers. It has been learnt that the government has been incorporating provisions for differently abled persons targeting expeditions.