News
Nepal's bid to win int'l recognition for five 8000m plus peaks stall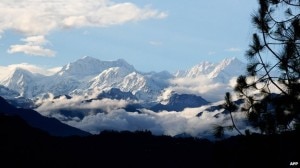 KATHMANDU, Nepal- A bid of the government of Nepal to win international recognition for five 8,000m-plus mountain peaks has been put on hold.
Nepali authorities had expected the International Mountaineering and Climbing Federation to recognize the five new peaks during the apex mountaineering body's annual general meeting in Switzerland last week.
However, India and Pakistan could not decide on the matter, causing the plan to stall at the UIAA's annual meeting, BBC said in its news report.
Three of the peaks are on the world's third highest mountain, the Kanchenjunga massif, two of which are on Nepal-India border and one within Nepali territory.
The two other new peaks are on the Lhotse massif on Nepal-China border near Mount Everest.
The highest of the new peaks, Yarlung Khang – also known as Kanchanjunga West – is 8,505m and is in Nepal.
All new peaks are within the mountain massifs that already have Nepal's eight highest peaks above 8,000 meters including Everest and are already recognized internationally.
The tall peaks are appealing to experienced mountaineers; climbing them can make it easier to secure sponsors.
Mountaineering makes up a significant chunk of Nepal's earnings from tourism.
Winning international recognition for the new peaks would set an important precedent for Nepal because it plans to open several other new peaks in the future to climbers.
Some mountain routes, like those leading to Everest's summit, are also becoming crowded, prompting some to call for lesser known peaks to be opened up to climbers.
Officials here said they had already secured support from China for the five new peaks.
"India and Pakistan are also quite positive but they said they needed more time to get this approved by their mountaineering bodies' general assemblies and therefore it could not happen during this meeting," said Ang Thsering Sherpa, former president of the Nepal Mountaineering Association and an honorary member of the UIAA.
The UIAA initiated in 2012 what it calls the ARUGA project with an aim to see if new 8,000m-plus could feasibly achieve international recognition.
Under that project, Nepal had tabled five new peaks and Pakistan one.
It wasn't possible to decide on this issue without getting the opinion and advice from the involved countries: China, India, Nepal and Pakistan," UIAA Mountaineering Commission President Pierre Humblet told BBC News.
The reasons cited for the two countries' indecision are different though.
When approached by the BBC to ask if details that it had delayed a decision were correct and if so why, the president of the Indian Mountaineering Foundation, Colonel HS Chauhan, said: "That is one part [of the story] and I will not make any further comment."
Knowledgeable sources said the issue was still debated in India and one of the reasons was because the Indian side of Kanchanjunga holds importance in the religious beliefs of the people of Sikkim in northeast India where that part of the mountain stands.
Recognizing the two border peaks means mountaineering from the Nepalese side would be allowed on them.
Sherpa said that if the proposal on the new peaks on Kanchenjunga still remained undecided then Nepal would seek international recognition for only three peaks – Lhotese Middle and Lhotse Shar – on the Nepal-China border and the Kanchanjunga, in the west of Nepal.
He said many climbers these days attempt to climb these so-called "side peaks" by using completely different routes from those of the main peaks.
Purna Chandra Bhattarai, Nepal's tourism ministry joint secretary who heads the mountaineering authority of the government: "We believe there are many such peaks in our Himalayas but we need to have a proper survey first.
"We are developing a special project towards that end and it will be initiated soon."
Mountaineering marked a significant chunk of Nepal's earnings of $360m from tourism last year although officials and mountaineering experts believe that figure can significantly jump if new peaks are opened.
Officials say they are mindful that the addition of the new mountains should not challenge records set by past climbers who have climbed all 14 of the peaks above 8,000 metres worldwide.
"It is important to keep a distinction between the historically recognized 8,000m-plus peaks and the newly recognized ones," said Mr Sherpa.
"If someone wants to climb all the 14 highest mountains, they must climb the main peaks of each mountain and not the newly identified side peaks."