News
Phulpati observed on seventh day of Bada Dashain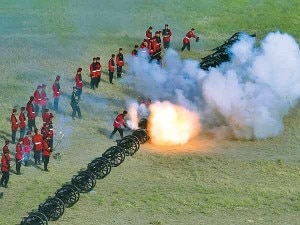 KATHMANDU, Nepal- People across the country observe Phulpati, the seventh day of Dashain on Friday.
On the occasion of Bada Dashain festival, the Phulpati is being taken into the homes as per tradition throughout the country today.
Phulpati, an assortment of flowers, leaves and fruits of different plants considered auspicious, is anointed at the Dashaighar on the seventh day of the 10-day Bada Dashain festival.
Although the 10-day festival begins from Ghatasthapana, Phulpati is marked with enthusiasm as the official beginning of a week long public holiday.
Marking this day, a set of sacred shrubs previously offered to Goddess Durga is taken to the Dashain Ghar in Hanumandhoka. Phulpati is carried by a group of six Magar people from Gorkha to Dhading. Afterwards, six Brahmins carry it to Jamal, from where it is transported to Dashain Ghar. Devotees also perform puja, and take Phulpati to the place when 'Jamara' is being planted. Rituals are performed to seek the goddess' forgiveness for the sins committed by their family members as well as her blessing for family peace and well-being.
Preparations for Phulpati puja begins from the sixth day of Navaratra. On that day, a pair of Bel (wooden apples), hanging from the tree itself, is consecrated. If a tree is not available, a pair of Bel is kept in the south corner of one's household and worshiped. 'Bel' fruit represents goddess 'Shree' of prosperity—one of the many manifestations of goddess Laxmi. The same pair of 'Bel' along with eight other plants is taken inside the Dashain Ghar or the particular room where Navaratra puja is offered. Nine plants—banana, pomegranate, green paddy, turmeric plant, manabriksha, kachuki, belpatra, ashok, and jayanti—are collectively called Navapatrika. Each of the plants represents a specific manifestation of Goddess Shakti. The banana plant represents Goddess Brahmande, who bestows peace.
Similarly, pomegranate represents Goddess Rakta Dantika who helps and blesses devotees. The goddess of wealth, Lakshmi, is believed to live in the rice stalk (dhan ko bala). Goddess Durga is supposed to grace the turmeric plant to put an end to obstacles and the ginger plant represents Goddess Kalika who blesses the mortals. There is also a religious belief that god Shiva lives in bel plant and is the favourite fruit of Bishnu and Shiva.
The Nepal Army is also organising a programme in Tundikhel to celebrate the day as the troops are set to host a seven canon-salute, to be overseen by the President and other state delegates.
Of the nine days of Navaratri, the first day is called Ghatasthapana, the seventh day, Phulpati , the eight day, Maha Astami and the ninth day, Maha Nawami hold special religious significance.