News
Nepal Airlines cut short flight schedule to save fuel costs; stops domestic flights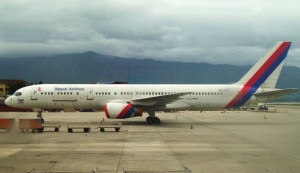 KATHMANDU, Nepal- At the time when the international airline companies are enjoying hay days in the peak tourists season in Nepal adding more fleets and flights, Nepal Airlines has cut short its flying schedule citing the reason that its 'Boeing consumes more fuel'.
After the plane consumes fuel costing almost half of its income the Nepal Airlines Corporation (NAC) management has decided to slash flight numbers of the national flag carrier. And, according to the NAC management, the cut short flight schedule will save the fuel costs in one hand while on the other hand would also help to rest the old aircrafts. But what about the income they are losing after implementing this cheap idea?
The NAC have two Boeing 757 aircrafts that are more than 25 years old. The American company Boeing made aircrafts that has 190 seats each consume more fuel as the airplanes are old.
"The planes are consuming the air fuel that costs almost half to their incomes," informed an official at NAC adding that the two Boeing and other two Twin otters consumed more or less fuel amounting 4 billion rupees per year. The company has been flying with only one Twin otter plane these days as it's another plane was crashed in Jomsom in June this year.
With the NAC slashing its flights have marred the passengers as the company used to operate 20 to 22 flights in normal days. However, the flight number has been decreased by 33 percent limiting it to 14 flights these days with two weekly flights to Bangkok, five to Kuala Lumpur, three to Hong Kong and four flights to Doha every week. Earlier there were three flights to Bangkong and daily flight to Kulala Lumpur.
Meanwhile, the NAC has also stopped its flight to the domestic sectors after the engine of its only Twin otter plane has been limited with only 12 flying hours. The NA aircraft with call sign 9N-ABB have been grounded at the festival times as it was left with only 12 flying hours.
"If this plane fly for two days then its flying hours will end, so there is no use of flying such a plane," the NAC official said.