News
TOP for Int'l Airlines connecting Nepal increase air seats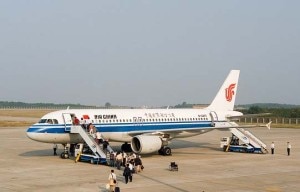 KATHMANDU, Nepal- At the time when air passengers are finding it hard to book the air seats for Nepal this tourist season, the government has issued temporary operating permits (TOP) for the international airlines connecting Nepal, that allows the airliners add flight numbers.
The Chinese carriers, airlines operating from the Gulf states and India have been operating extra flights under the TOP scheme.
Under the policy to lure more tourists, the government issued the TOP scheme during the Nepal Tourism Year 2011, Visit Lumbini Year 2012 and continued it for 2013.
The Ministry of Culture, Tourism and Civil Aviation has also intensified bilateral air service agreement (ASA) with different countries to increase the air seats connecting Nepal .
On April 16, Nepal and the United Arab Emirates signed an enhanced bilateral ASA, permitting the operation of 70 flights per week on a reciprocal basis. Under the previous memorandum of understanding (MoU), signed on Dec 27, 2007, designated carriers from the two countries were allowed to operate 28 flights weekly.
Likewise, Nepal and China are scheduled to revise the bilateral ASA, as travel demand has surpassed the seat capacity given to Chinese carriers.
Three Chinese carriers-Air China, China Southern and China Eastern-currently serve Kathmandu's Tribhuvan International Airport (TIA) and new carriers from China have expressed interest in servicing Nepal.
A 17-member delegation will be arriving in Nepal for the bilateral negotiations on October 24-25, informed Pramod Nepal, under-secretary of the Ministry.
Although the amount of seats to be allocated for the Chinese carriers is yet to be fixed, Nepal said that it could be double the existing frequency.
At present, the ASA allows Chinese airlines to operate 14 flights per week.
A number of issues, such as joint tourism promotion and code-share facilities, will be discussed during the negotiation. The two countries signed the ASA in 2003 and Air China opened a direct air link between China and Nepal in 2004.
China provides almost 10,000 seats per week to seven Chinese cities, with two to Osaka and Seoul. Previously, the Nepal Airlines Corporation (NAC) operated flights to Shanghai.
However, under the agreement, Nepali carriers are unable to utilize the allocated seats to designated Chinese cities. Based on reciprocal exchanges of authorization, the ASA is normally revised depending on the country's requirement of air seats.
In November last year, a Chinese delegation met officials from the ministry and requested an increase in the weekly seat capacity. Air China, China Eastern and China Southern observed a passenger occupancy growth of 35.92 percent, to 82,470, in the first six months of 2013.
According to the Nepal Tourism Board, Chinese tourists arriving via air to Nepal increased by 24.2 percent, to 38,767, in the first eight months of this year. Chinese tourists hold a 10.5 percent market share in Nepal after India.
Meanwhile, the ministry said that proposals to revise old agreements and signing new ASAs with different countries, which have been accumulating, will be prioritized.  Nepal has signed bilateral air service agreements with 36 countries since 1963. This provides 5.7 million seats per annum to and from Nepal. However, less than 40 percent of this capacity is being utilized. Presently, 27 international airlines are operating flights from Kathmandu to 22 cities in Asia and Europe.