News
Attempts to lower water level in Imja Lake accelerate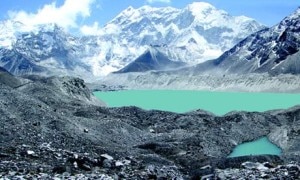 KATHAMNDU, Nepal-Fearing of massive destruction from a potential Glacial Lake Outburst Flood (GLOF) in the Khumbu region, government authorities are now speeding up the attempts to lower the water level in Imja glacial lake by three meters.
Water level of Imja, which could possibly affect scores of locals in Solukhumbu district in the event of a GLOF, will be brought down through a 70-meter- long water canal.
As per an agreement with the United Nationals Development Program (UNDP) in July this year, the Department of Hydrology and Meteorology (DoHM) has now begun a feasibility study to let down the water level of Imja, located at the altitude of 5,000 meters in the Khumbu region.
The canal will be transferred into Imja khola, which springs up from Imja Lake itself and becomes bigger after getting glacier melting from peaks in the region.
The feasibility study for reducing water volume in Imja will be followed by preparation of a detailed engineering design, which will decide what type of canal would be the most cost-effective.
According to an official at the Department of Hydrology and Meteorology, Imja Lake would be lowered by 2017 if everything went as planned. He further informed that lowering of water level in Imja was a part of a US$ 7.2 million project, funded by the Least Developed Countries Fund (LDCF) of the Global Environment Facility.
As part of the project, which will run until 2017 from 2013, early warning system will be developed in four districts- Siraha, Saptari, Udayapur and Mahottari of  Tarai — Siraha, Saptari, Udayapur and Mahottari — to protect people and their properties from GLOFs and flash floods in the days to come.
According to a 2009 report prepared by the International Center for Integrated Mountain Development (ICIMOD), Imja has developed into a 1.01 square kilometer lake over the last 50 years.  Imja was just a 0.03 square kilometer lake in 1956-1963, according to the same report.
Assisted by a United Nations agency, this is the second time that water level of a glacial lake is being lowered in Nepal.
Earlier, in 2000, the volume of water level in Tsho Rolpa, located inDolkhaa district was reduced by three meters through 70-meter-long water canal which has been transformed into Rolwaling River.
The risk of outburst of Tsho Rolpa had  led to a hue and cry among the local people in the late 1990s.