News
Threat to CA elections stills looms large, but Govt eyes it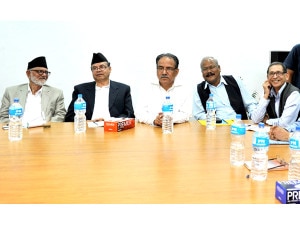 KATHMANDU, Nepal- At the time when political parties should focus on the preparations of upcoming elections of the Constituent Assembly, the chances of the CA polls slated for November 19 looms large as the major political parties lobbying for scheduled elections decided to go head leaving the disgruntling parties behind.
The risk for the CA declared for second time persists after the major political parties represented in the High Level Political Committee (HLPC) have agreed to hold election without participation of the CPN-Maoist led 33 parties' alliance.
With several rounds of failed talks with CPN- Maoist led alliance, major political parties reached this decision after meeting with Interim Election Council Chairman Khilraj Regmi and other cabinet ministers at the chairman's official residence in Baluwatar on Tuesday morning.
According to the office of the Chairman, HLPC leaders urged Regmi to intensify the election process by amending the 25-point presidential decree and remove constitutional difficulties in order to implement agreements reached with parties like Madhesi Janadhikar Forum-Nepal and Federal Socialist Party Nepal (FSPN). They asked him to ensure second Constituent Assembly (CA) election on November 19 at any cost.
A cabinet meeting held after has already made recommendations to the government to amend the 25-point presidential decree and remove constitutional difficulties. This will give a constitutional stature to agreements made with various political committees and parties, including increasing the number of CA members 491 to 601. Chairman Regmi visited the President with the proposal at Shital Niwas on Tuesday afternoon.
CPN-Maoists and the alliance of 33 parties have insisted that the CA election be postponed and that Regmi resign to create an atmosphere conducive for joining the election process.
However, chairman Regmi, during informal talkings with the president and HLPC has clarified that he will not step down as Chief Justice. He will rather prefer to step down as the head of the government. He even has hinted that the election would also not be postponed from the stipulated time.
After the meeting with the chairman, leaders of major political parties headed towards the Election Commission Office and urged it to speed-up on the election process.