News
Shrinking rupees proved boon for tourism sector with int'l airlines' seat packed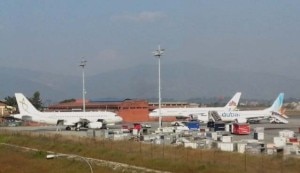 KATHMANDU, Nepal- With the exchange rate going in favour of foreign visitors, tourists get more than hundred rupees for one American dollar. And this means, this time foreigners not only can visit their favourite holiday destination but also find their vacation in Nepal at the cheapest.
Travel trade entrepreneurs expect more tourists from the Asian region to come to Nepal this season due to a stronger US dollar. The rate, if compared to the same period last year, means a 20 percent bonus to foreign visitors to the Himalayan nation. The continuous devaluation of the Nepali rupee against the US dollar has brought cheer to the travel trade sector. A stronger dollar has not only increased tourism earnings but also made Nepal a cheaper destination for foreign travellers.
They said that more foreigners may be tempted to visit the country as they will be getting more for their dollars in Nepal.
The autumn-September to November-is the peak tourist season which offers highly pleasant weather for trekking and mountain views. Nepal sees almost 40 percent of the total tourist arrivals during the autumn season.
And the effect of shrinking rupees has been starting seen in the International airlines serving Nepal. According to travel and trade operators, the airlines are seeing a surge in inbound bookings with the tourist and festival seasons approaching.
According to travel agencies, almost every flight into Kathmandu is 96 percent booked for October while 85 percent of the seats have been booked for November. They said that air ticket reservations from Sept 20-30 have crossed 90 percent on average at almost all the international carriers.
Autumn is also Nepal's main festival season when thousands of migrant workers and other Nepalese living abroad return home to celebrate Dashain and Tihar with their families.
According to travel trade entrepreneurs, the September-November period is the high season for airlines with tourist occupancy reaching 70 percent. They said that bookings, however, started late this year.
According to travel agencies, carriers from the Middle East, China and India are 100 percent booked for October while reservations are picking up at carriers from other bases.
Travel agents said that Qatar Airways was 90 percent booked from Sept 24-30 and 99 percent booked from October to Nov 6. The carrier flies 28 weekly flights to Nepal. Abu Dhabi-based Etihad Airways is 80 percent booked from Sept 20-27 and has 100 percent reservations until Oct 27.
Etihad has announced doubling its daily Abu Dhabi-Kathmandu service to twice daily from Nov 1. Oman Air is more than 95 percent booked after Sept 27 while it has 96 percent bookings for October. Two no-frills airlines —Fly Dubai and Air Arabia—are 90 percent reserved for the September-October season.
Tickets of the new entrant Turkish Airlines are sold out from mid-September to November. Thai Airways is 80 percent booked from Sept 20-28 while reservations have crossed 95 percent until Oct 19 and 100 percent until early November.
In the same way, three Chinese carriers—Air China, China Southern and China Eastern—have 95 percent bookings for Sept 26 and are sold out for October. Hong Kong-based Dragon Air is 100 percent booked from Sept 30 to Oct 22. Its bookings until Sept 25 stand at 80 percent.
Indian carriers Air India, Jet Airways, Indigo and Spice Jet are 95 percent reserved after Sept 25 and sold out for October. According to agencies, Jet Airways is fully booked until Nov 15 due to its large connectivity.
Likewise, Silk Air flights are fully booked from mid-September to mid-October while Malaysia-based budget carrier Air Asia X is 70 percent booked for September and fully booked for October.
Malaysia Airlines bookings have crossed 80 percent for Sept 16-23 and is fully booked until Oct 27. The carrier has announced twice daily flights from Oct 26.