News
Prospects of mountaineering, trekking highlighted on HRA anniversary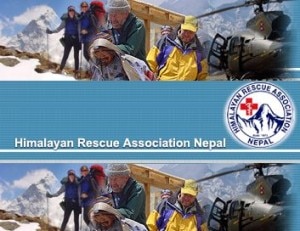 KATHMANDU, Nepal- The possibilities and prospects of mountaineering tourism and trekking at various locations of Nepal have been discussed along with their proper development in the course of time. The prospects have been discussed on the occasion of 40th anniversary of Himalayan Rescue Association Nepal (HRA-Nepal) here on Saturday, August 31, 2013.
The HRA on Saturday marked its establishment day honoring various personalities and volunteer doctors from different countries of the world amidst a function.
Various personalities including, high Government officials, mountaineering rescue experts and tourism entrepreneurs, stressed the need of effective search and rescue operations to handle disasters and health problems in mountains and trekking areas of Nepal.
Speaking on the occasion, Chairman of the Interim Council of Ministers Khil Raj Regmi highly evaluated activities of HRA during four decades of its establishment for continuously providing humanitarian services to thousands of foreign mountaineers and trekkers and Nepali trekking guides, porters and local people.
' The HRA has played a vital role in saving lives of the people in the Himalayas and the government is committed to join hands with the philanthropist organization in saving lives in the high mountains of the country,' Regmi said.
Stating that the country possess high tourism prsopects, Regmi pointed out the need of promoting domestic and international tourism in the days ahead. "Nepal holds immense potentials in development of tourism and the country is popular across the world as mountaineering and adventure tourist destination .Mt. Everest is Nepal's pride", he said.
On the occasion, Regmi presented Plaques of Honor to different personalities and foreign volunteer doctors including Founder Chairman Tek Chandra Pokharel, former chairmen late Praja Pati Prasai , R.P. Panta , Bikram Neupane ,late Ang Kaji Sherpa ,volunteer doctors – Dr. John Skow ,Dr. John Dickinson ,Dr. Peter Hacket ,Dr. Devid Slim ,Dr. Buddha Basnyat , Dr. Ken Zafren,Dr. Luanne Freer ,Dr. Sandy Scott and Padam Ghale.
Plaques of Honours were also offered to representatives of British Embassy, USA Embassy, Australian Embassy and Embassy of French Republic based in Kathmandu for their humanitarian assistance on the occasion.
Minister for Culture, Tourism and Civil Aviation Ram Kumar Shrestha, urged HRA and concerned agencies to expand humanitarian activities in remote Himalayan region of Nepal.
"The government is committed to assist HRA in making safety and rescue operations more effective in trekking areas and Himalayas of Nepal," he said.
On the occasion, HRA chairman Santa Subba urged all the governmental and concerned organizations to cooperate in making HRA a focal point on search and rescue with capability to handle disaster situation in the country.
Other speakers highlighted on different activities of HRA during its journey of four decades to save human lives from high altitude sickness and other health problems in the mountains of Nepal.
The Himalayan Rescue Association (HRA) is a voluntary non-profit organization formed in 1973 with an objective to prevent deaths from Acute Mountain Sickness and reduce casualties in the Nepal Himalayas, especially keeping in view the increasing number of Nepali and foreigners who trek up into the remote wilderness.
HRA has been operating two Aid Posts in the Khumbu village of Pheriche at an altitude of 4,300 meter and a permanent aid post in Manang (3500m) on the way to Annapurna Circuit for the last 40 years. The Association has also opened various temporary posts during seasons at various points like the Na Village in Rolwaling, the Gokyo Trail, and at the Gosaikunda Lake area besides operating a medical clinic at the Everest Base Camp since 2003.
More than 350 volunteer doctors from different countries have served in the aid posts so far.