News
Glaciers in Hindu Kush region thinning following climate warming: ICIMOD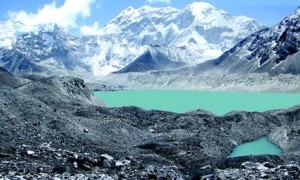 KATHMANDU, Nepal-Many glaciers in the Hindu Kush region are thinning due to climate warming, and this has resulted in the formation of melting water lakes, Kathmandu-based International Centre for Integrated Mountain Development (ICIMOD) informed.
ICIMOD further informed that such lakes are often held back by unstable moraine dams that could potentially breach causing serious floods and debris flows downstream. Terming this phenomenon as Glacial Lake Outburst Flood (GLOFs), ICIMOD warned GLOFs could cause extensive destruction in the valley downstream, where almost all hydropower plants are located.
ICIMOD is also carrying out the regional mapping of glacial lakes and assessment of the increasing risk from GLOFs. One example of a GLOF is the 1985 breaching of Dig Tso in Khumbu, Nepal, which almost completely destroyed the Namche Hydropower Plant, washing away 14 bridges and agricultural land, and caused many casualties.
Around 200 glacial lakes in this region have been identified as priority lakes, but the real risk of these lakes bursting their dams remains largely unknown and needs to be researched, according to ICIMOD.
ICIMOD is operating mapping and risk assessment in collaboration with national partners in the region.
The Government of Nepal now does mandatory risk assessment of glacial lakes as part of planning process for hydropower plants. Similar approach needs to be followed by other countries in the region.
In the meantime, Dr Eklabya Sharma of ICIMOD said the lack of hydro-meteorological data, inadequate early warning systems, and poor infrastructures planning often worsen the damages caused by floods in terms of human lives and properties.
'The transboundary nature of these disaster events and absence of regional data sharing mechanisms has further added woes of the people living in the fragile environment,' Sharma further said.
 ICIMOD was set up in 1983 by eight member countries of the Hindu Kush Himalayan (HKH) region: Nepal, India, Bangladesh, Afghanistan, Bhutan, China, Myanmar and Pakistan.
Headquartered in Kathmandu by an 'Act of Parliament of Nepal' and the eight country regional charter, the Centre serves as a regional inter-governmental organization for cooperation on the sustainable development of the HKH region.