News
Is Nepal turning into unsafe place? Missing Saco was slain in Lamtang Park !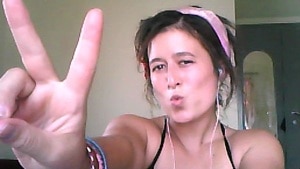 KATHMANDU, Nepal- Surely, it may be the shocking news for the foreigners that an American tourist Aubrey Caroline Saco, 23, who had been missing from Lamtang National Park (LNP) in Rasuwa district, located north west of Capital Kathmandu, was murdered by a group of local, a police investigation has revealed, Friday.
Saco had gone missing since April 20, 2010 after she set out on a weeklong hike along the Lamgtang trail.
Saco's body was thrown into the Lamgtang River after the murder, the investigations further disclosed.  According to the statement of one of the accused involved in the murder, a group of three people had slain Saco near a huge rock above the river side and threw her passport and other documents into the river.
Police have arrested Pemba Lama, Jagat Tamang and Lhakpa Lopchan of Lamtang on charge of their involvement in the murder. Lopchan, master mind behind the attack was arrested as per the statement of the Pemba. The Central Bureau of Nepal police held and took them to the murder site for further investigation.
Kathmandu based travel and tourism entrepreneurs complained that the incident has given the wrong message to the international community that Nepal is not a secured place for foreigners. They have also demanded to take strong action against the guilty.
Some tourism entrepreneurs have criticized the government for failing to provide appropriate secure Saco.
'The government should beg excuse to the family of Saco in America and provide appropriate compensation to the bereaved family,' a Thamel based tourism entrepreneur Sudeep Sharma told to Nepal Mountain Focus. He also demanded strong action against culprits.
Saco's family was launching a searching drive since Saco had gone missing three years ago in Rasuwa. They have also created a separate website pleading for her search and update the page frequently.
'April 22, 2013 was the 3 years anniversary of the disappearance of our lovely daughter Aubrey. To mark the anniversary we travelled to Nepal to beat down a few walls. Aubrey's Aunt, Connie and I just returned from Kathmandu where we spent 10 days with the new US Ambassador to Nepal, …we posted reward posters around the city and handed out cards that displayed posters and reward information',  Saco's family had posted on a web page just on  May 14 ,2014.