News
Mustang houses five snow leopards, three year study reveals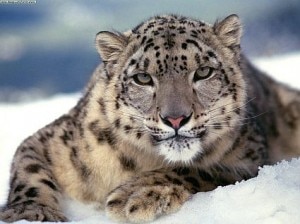 KATHMANDU, Nepal-As many as five endangered snow leopards were spotted in the mountain district of Mustang. During the course of three years study conducted on the effect of climate change in the Himalayas and its impact on endangered snow leopard, the team comprising of locals, environmentalist and wildlife experts conformed that there were as many as five snow leopards in the district.
Annapurna Conservation Area Project (ACAP) in partnership with several organizations working in the sectors of wildlife conservation had carried out the field study under the leadership of snow leopard expert Som Ale from 2011.
The study team had fixed nine trapping cameras in the various mountains and peak to track this magnificent cat, also known for the king of the mountains.
'During the three years study, five snow leopards were spotted in an area of 1,000 square kilometers in the district,'  Mygadi based journalist Parandhar Tiwari informed Nepal Mountain Focus quoting a member of the team Rajeev Magar. According to Tiwari, the animals were sighted at Namu, Lupra, Bhashu and Muktinath Temple areas as well as in the locality of Thorang La pass and Tilicho Lake of Manang district, which are situated at an altitude between 3,000 meters and 5,000 meters.
The study team also anticipated that there are around 300 snow leopards in Nepal.
'Snow leopard's numbers can be heightened if the locals take measures to conserve the animals and their habitat,' Tiwari further informed quoting the other members of the study.
Meanwhile, with the end of the study, tourism experts and environmentalist stressed the need for launching conservation campaigns in the uplands of the district to preserve the rare animals adding that they could lure large number of foreign tourists in Nepal.
In the meantime, ACAP officials are joining hands with the local students to raise awareness on conservation of the animal, it is learnt.
Snow leopards are found in 12 countries—including Nepal, China, Bhutan, India, Pakistan, Afghanistan, Russia, and Mongolia—but their population is dropping.