News
Everest railway for tourists visiting Tibet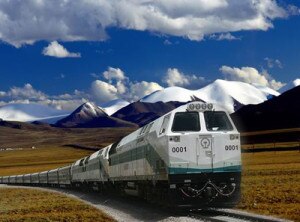 KATHMANDU, Nepal- If you are planning to visit Tibet, the world's largest Plateau the coming month, why not you chose the Hong Kong route? Because a railway company in China is preparing to operate a railway service with special facilities for tourists visiting Tibet via Hong Kong.
The first of its kind special railway service has been named "Everest", after the highest peak Mt Everest.
According to Chinese media, Qinghai-Tibet Railway Company is launching the special rail service for the next four months from June 1 eyeing the tourism potential there.
The Everest train will reach Lasha from Xining, capital of Qinghai, once in every four days.  And new report said, this comes at a time when the Chinese government is connecting Lhasa with Shigatse through rail route.
According to the company, all the 700 tickets for the first trip on Saturday have already been booked.
According to the office of the consul general at Tibet, the special train service will also benefit tourism in Nepal as the base camp of Mt Everest is 250 km away from Shigatse of Tibet.
"The railway service may also promote tourism in Nepal as tourists may visit Nepal via Tatopani after traveling for around three hours from Shigatse," Hari Basyal consul general at Tibet is quoted as said by the media reports. Tatopani is 392 kilometers from Shigatse. Around 21,000 tourists had visited Nepal via the same route of Shigatse last year.
"It is the good news as it will also promote tourism in our country," said Basyal, adding, the Tibetan government had aimed to welcome 12 million tourists this year.
Last year, the Tibetan government had earned $ 2.1 billon in revenue from 10 million tourists. The railway service is expected to further increase the tourism revenue of Tibet.
The Qinghai-Tibet railway will be the first route to connect Lhasa-Shigatse section of Tibet with Beijing, the capital of China.