News
Typical Nepali event of Asar 15 to entertain tourists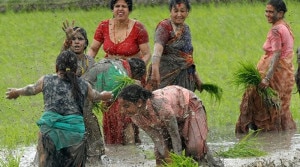 KATHMANDU, Nepal- In a bid to celebrate the Asar 15, a Nepali day celebrated by the farmers almost across the country, by planting the paddy saplings and eating beaten-rice with yogurt, as a tourism festival, farmers and tourism stakeholders in various districts are preparing with a set of programmes to mark the day.
Asar, the third month of Nepali calendar, is considered as the monsoon month when farmers are found busy in their fields to plant the paddy in a hope that would yield as much rice as to satisfy their hunger for the whole year.   Farmers usually sing typical folk duet songs, splash mud to each other while working on the field adding more charm to scene of the fields.
Considering the value of the day some organizations like All Nepal Farmers' Federation has been marking the day of Asar 15 as Ropai Mahotsav (Paddy plantation day) while Nepal Agriculture Research Council marked the day as Dhan Diwas (Rice Day).
According to Madhu Pyakurel, general secretary of Society of Travel and Tours Operators Nepal, the member travel agencies of SOTTO-Nepal are preparing to organize some programmes on the day or some day within the month. "We are planning to take the foreign tourists to the paddy field and make them enjoy the real Nepali culture," Pyakurel said, adding that his member travel agencies are preparing to celebrate the Asar 15 day with tourists. "In Pokhara about 10 ropanis of land have already been chosen with a plan to take more than 200 foreign tourists and hundreds of other domestic tourists to enjoy with the mire," he said quoting Tikaram Sapkota, president of Pokhara Tourism Council.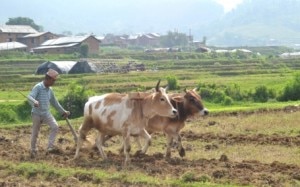 Village Tourism Promotion Forum that organized programmes in various tourism destination districts like Kaski, Gorkha, Lamjung and Rasuwa has this time collaborated with Nepal Tourism Board to launch the programme at the eastern districts from 12 to 16 of Asar.
According to Nepal Tourism Board, the VTPOF, Chitwan Regional Hotel Association, Bird Study Society among other organizations are organizing different programmes to let the tourists know Nepali culture.
Various programmes like racing competition in mud among foreign tourists, entertainment based games and live Nepali Asare duet songs are slated for the day.
Organizers said that in the course of modernization not only foreigners but even Nepalis are unaware of the typical way of farming and such festivals will entertain them and also inform them about the traditional way of farming.