News
1 killed, five including Italian pilot injured in Chopper crash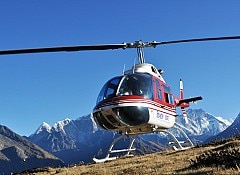 KATHMANDU, Nepal-One person was killed and five other injured including an Italian pilot when a Fishtail Air copter crashed on the bank of Karnali River. The copter bound to Simikot, the district head quarter of Humla, on a rescue mission, crashed at Dumkot, 40 miles north of the district headquarter, Wednesday afternoon.
'The chopper was returning after transporting rescue officials to Muchu-9 in Hilsa village, near Mansorobar ,' Raju Neupane, administrative manager of Fishtail Air in Kathmandu told to Nepal Mountain Focus.
According to Neupane, There were six people on board including an Italian pilot Davide Spatola. All the injured are out of danger and they are airlifted to Kathmandu for further treatment. Neupane further said they have already informed about the situation of pilot through Italian consulate in Kathmandu. 'All injured are out of danger,' Neupane said  quoting Dr. Bashanta Panta who is assigned to take care of the injured pilot at Annapurna hospital in Kathmandu.
Neupane further informed Tek Bahadur Patali, chief of Simikot Airport, Humla, died in the crash.  Patali died while being rushed to hospital, Wednesday evening.
Earlier on Wednesday, the Civil Aviation Authority of Nepal said Italian pilot Spatola, two Nepalese passengers Govinda Lama and Dilak Shrestha were seriously injured in the accident.
The injured had received minor treatment at the Simikot hospital. They were flown to Simikot hospital by the help of another Fishtail Air chopper.
In the mean time reports from Humla quoting Fishtail Air CEO Suman Pandey said the copter met the accident while trying to land. Nevertheless, two other Nepalese passengers AD Sherpa and Prajwol Bhattarai have return back to home after receiving the treatments, according to administrative manager Neupane.
The chopper has been completely damaged and the main reason behind the accident is yet to ascertain.
The teams were sent for rescue of people affected by landslides.
Fishtail Air have rented the aircraft from Elicampiglio Srl, an Italian company, as per the agreement between the Fishtail Air and the company, it is learnt.