News
Great Himalayan Trail in Google Map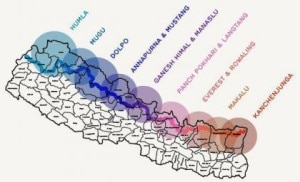 KATHMANDU, Nepal- In its bid to attract more foreign tourists visit Nepal, the Great Himalayan Trail (GHT) has started the Global Positioning System (GPS) Survey covering the 19 tourist destinations in five Himalayan districts of Nepal.
The survey that is being carried out in technical assistance of British Aid Agency DFID will include total 19 tourist trail maps of Taplejung, Solukhumbu, Gorkha, Dolpa and Humla with detail information in the Google Earth.
Among the trail in GPS trail survey include Kanchenjunga base camp trail, Fungling-Pathivara trail, Gufapokhari-Papung trail, Lelep-Ulanchungola-Lumbasumba trail and Faplu-Salleri trail of Solukhumbu. Likewise, Pike-Dudhkunda, Jiri-Lukla, Upper Manaslu of Gorkha, Chum valley, Barpak, Larkebhanjyang, Upper Dolpa, Lower Dolpa and Dhorpatan trail are also in the GPS survey list.
In the same way three trails of Upper Humla are also included in the survey.
"The GPS survey of Ghunsa/Pathivara of Taplejung and Salleri Faplu of Solukhumbu has been completed," informed Shankar Pathak, technical advisor of SNV Netherlands that has been assisting in promoting the Great Himalayan Trail Development Programme (GHTDP), adding, "the detail information about all 19 destinations will be in SNV home page in cooperation with the Google".
Remaining works of other trails in the GHT will be carried out soon after the completion of the first phase survey, according to Pathak.
The trails are selected according to the recommendation of the Tourism Development Committee in the respective districts.
Once the survey data is uploaded in the Google earth, tourists can seen, download and can even print it for free which will help them to carry out hassle free trekking in the country's longest trail.
The survey will inform the tourists about the longitude, latitude, altitude of their position along with the hotels, restaurants, human settlements, river, bridge, mountains, hospitals, schools, health posts, police stations among other required facilities.
Included in the world's trial list and the longest in Nepal the trail covers 2 hundred and 25 village development committees of 25 mountainous and hilly districts.