News
One third of Nepalese peaks yet to see single climber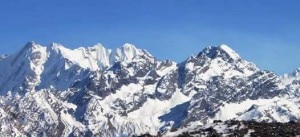 KATHMANDU, Nepal-Out of 330 peaks open for climbing in Nepal, more than 100 are not climbed so far since they are located in far western region of Nepal, which is also labeled as 'undeveloped region.' With this situation, one third of mountains opened for climbing in Nepal have not seen any mountaineer for a long time.
The trend among professional mountaineers only to be lured by famous and biggest mountains and lack of development infrastructures coupled with centralization and geographical distance are to be blamed for this situation, mountaineering expert said.
The flow of mountaineers in Annapurna and Everest region is up, and the peaks are overcrowded by aspirant climbers in almost all season, however, why the mountaineers are loath to summit the small peak like Api Mountain located in the far western region?. According to expert, mountaineers do not get huge fame even though they are succeeded in middle and small range mountains. However, many foreigner mountaineers are not acquainted with lesser-known peaks in Nepal due to the lack of publicity by the government.
"Since the region is so underdeveloped, it requires infrastructure development, including roads, airport, hotels and hospitals," quoted BBC as the statement of Ang Tshering Sherpa, ex- president of Nepal Mountaineering Association (NMA). According to Sherpa, any mountaineer is fully aware of his or her basic requirement especially in an emergency situation when they need to be rescued from mountain.
According to figure by Ministry of Culture, Tourism and Civil Aviation, Mt. Ama Dablam and Everest, both in the Khumbu region of eastern Nepal, have found the largest number of expeditions, more than 30 every year.
Likewise, Mt. Manasalu and certain peaks in the Annapurna region in western Nepal are the other most submitted peaks in Nepal.
Keeping in mind the zero movements of the climbers in far western region, the government has waived the mountaineering royalty for 49 mountains in the region for many years; however, the peaks are yet to see the movements of domestic and foreign climbers.
Likewise, Minister for Culture, Tourism and Civil Aviation Ram Kumar Shrestha on the behalf of the government have already announced that the government would grant special subsidiary for the travelers visiting far western region in a bid to lure more tourist and overall development of the region.
According to the data, there are 1,310 mountains identified as suitable for mountaineering in the Nepalese Himalayas.