News
Tourism industry wants priority treatment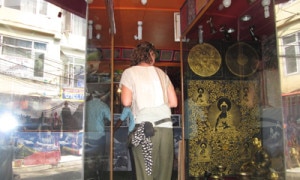 KATHMANDU, Nepal-Tourism entrepreneurs in Nepal have asked the government to recognize tourism industry as 'National Priority Industry'. Though a report prepared by the high level committee was sent on one year ago to various ministries for the implementation after getting nod from the Ministry of Council to accord tourism sector a 'priority industry' status, however, it has not been able to get the priority treatment.
The entrepreneurs in Nepal have frequently requested the government to provide facility to those tourism oriented hotels and resorts which are categorized under Industrial Entrepreneur Act.
Likewise, they have been demanding exemption on in com tax and Value Additional Tax (VAT) for the new hotel and restaurant operating in remote district for ten years as well as asking facility at critical hour on the basis of employment offered by the hotels in tourism industry.
The hoteliers said that the star hotels and resorts should be allowed to import four wheels vehicles on tax exemption. Shyam Sundar Lal Kaxchapati, president of HAN stressed the need to implement the suggestion of the high level committee at the earliest to accord tourism industry as the status of national priority industry.
Meanwhile, during the meeting between the delegates of Hotel Association of Nepal (HAN) and Finance Ministry, Shankar Koirala, the former asked the government to accord tourism sector a 'Priority Industry.' Minister Koirala assured tourism entrepreneurs of government continuously support to the tourism industry, one of the bouncing industries of Nepal.
On the other hand, due to lack of aircraft with the national flag carrier visitors arrivals and tourism receipts have not been encouraging in the recent months.
In the meantime, the Travel and Tourism Competitiveness Index 2013 — published by World Economic Forum — has ranked Nepal at the 112th position with 3.42 score among 140 countries. In the last two years there has been no improvement in the country's ranking as in 2011 index also, Nepal was ranked at 112th position.