News
Sherchan sets out to climb Everest to defend his title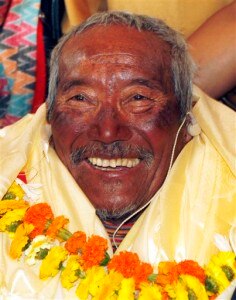 KATHMANDU, Nepal-Veteran octogenarian mountaineer Min Bahadur Sherchan who holds the world record of being the first oldest person to summit the Mt. Everest has once again set out to climb the peak to defend his title. Climber Sherchan who stopped up in the Base Camp nearly for a week due to lack of proper fund to climb the peak, eventually resumed his courageous journey, Friday evening  after the government of Nepal decided to let off  all  the royalty required for his expedition. With this decision, Sherchan would atop the peak on Wednesday to break the recent record held by Japanese rival Yuichiro Miura, 81, who scaled the peak Thursday morning, collapsing Sherchan's earlier record.
'Sherchan who had already reached the Base Camp  seeking government's nod would reach the top on Wednesday,' liaison officer at the Ministry of Culture, Tourism and Civil Aviation Tilak Pandey said.  Pandey also informed that the government has decided to provide 1 million rupees along with exemption in climbing royalty for Sherchan, who is committed to conquer the top at any cost.
Stating that the government is going to allocate the required amount for the trekking company Alpine Everest Guide Nepal through which Sherchan is ascending the peak, Pandey told,  'Octogenarian Sherchan has already embarked the journey from the Base Camp.'
It is learnt that Sherchan is more vigorous to hold the record for the second time after the government exempted $70, 000 for climbing royalty. With the government decision to exempt the royalty, Sherchan would atop the Everest on May 29, the very day when the government is going to mark  the Diamond Jubilee of Everest, on the occasion of 60th years of human ascent on Everest.
Only on Thursday, Japanese Miura broke the Sherchan's record to become the oldest person to scale the peak. Mr Sherchan stepped foot on the peak  in May 2008 at his 76 year old,  beating his rival Mr Miura, who summit  Everest that season, by a year.