News
Nepal to bring new policy to control Mt Everest traffic jam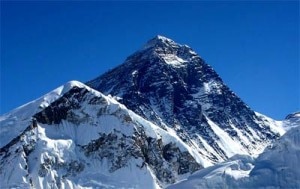 The government of Nepal is planning to bring a new policy in order to control the excessive human traffic at the top of the world.
The Ministry of Tourism and Civil Aviation is working to formulate the new policy in its bid to maintain the charm of the world's highest Mount Everest.
Debate over the need of new rules and regulations regarding the Everest ascent have been sought for the last few years after the number of commercial expeditions and their competitions to make new world records on the top of the world have crossed the limits. The climbers were also found breaching norms in the race of record holding.
"A new rule and policy regarding the Everest expedition is now necessary," said Mohan Krishna Sapkota, joint-secretary at the ministry, urging all to suggest "what may be the appropriate measures". He also opined that the climbing holiday would also be an option if the concerned sectors agree on that.
Subash Nirola, officiating chief executive officer of Nepal Tourism Board expressed the need to control the excessive crowd at the peak. He said that NTB along with other stakeholders and the government is trying to develop a plan to control the crowd at Everest.
He, however, said, "preventing climbers at Everest is not possible as it will have a negative impact on a number of things. But Everest being a world heritage site needs to conserved".
According to him, the government should raise the royalty fee than closing the mountain for climbing. "Once the royalty is increased the number will be controlled automatically," he opined, adding, "the climbing holiday will have effect on overall Nepali tourism". "The climbing holiday on the one hand decrease government's income while on the other will also hamper tourism sector," Nirola said adding that the raise in royalty is the only option.
Meanwhile, Ang Tshering Sherpa, former president of Nepal Mountaineering Association said that the pollution in the Everest will not decrease soon after the closure of expeditions. "The government should immediately bring policy to manage garbage as garbages from more than 60 years have been recovered from the region," said Sherpa.
With the government preparing to celebrate the year 2013 as Mt Everest Diamond Jubilee Celebration year to mark the diamond jubilee of the first ascent of Mt Everest, nearly 500 have climed the Everest with numbers of records so far.
According to the ministry, 467 climbers successfully reached the highest point on earth from Nepal or the south side as of Wednesday. And, the spring expedition on Everest is yet to be over.