News
(English) After 355 days Ganga Maya breaks hunger strike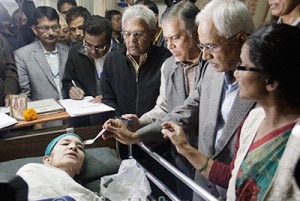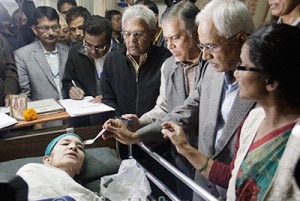 KATHMANDU, Nepal–Ganga Maya Adhikari, who had been surviving on endovenous nutrients for 355 days, ended her hunger strike on Saturday. She was ready to end her months long hunger strike aft the the government promised to book the murderers of her son. She, however, will not be taking solid food until her demand for justice is met.
"I am taking a drink to survive so that I can continue my fight for justice," today's Kantipur daily quoted Ganga Maya as her written statement. Her statement was read out by Rishi Raj Bhandari, joint-secretary at the Ministry of Peace and Reconstruction.
On the occasion Minister for Peace and Reconstruction Narahari Acharya informed that Ganga Maya will be taking malted milk drink, oral rehydration salts, glucose and water.
Her husband Nanda Prasad, 54, succumbed to hunger on September 22 in Bir Hospital, where the fasting couple had been receiving care besides nutrition doses. His body remains unclaimed at the morgue in Tribhuvan University Teaching Hospital, Maharajgunj.
The Adhikaris began their hunger strike on October 25 last year, demanding investigation into the murder of their son.
Their eighteen-year-old Krishna Prasad was allegedly murdered after abduction by then rebel Maoists from his home in Fujel of Gorkha in 2004.
The government has issued a Red Corner Notice to book Rudra Acharya, the main culprit of the murder believed to be staying in Ireland.
The government has assured Ganga Maya that the guilty will be brought to justice and that she would be compensated for the loss of property the Adhikaris have incurred since the Maoist insurgency.
The government has announced a special relief package that includes security for family members and free accommodation and health care for Ganga Maya throughout her life.
Sudip Pathak, a member of National Human Rights Commission said the government should be committed regarding to fulfill the promise as expressed Saturday evening.
The couple had ended their 47-day fast on last September as the then government assured to investigate the murder of their son. However they resumed the death fast as the government failed to deliver on its promises.