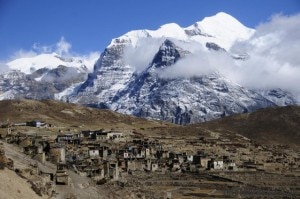 KATHMANDU, Nepal–Four people including three foreign tourists were killed in an avalanche in mountainous Nar village of Manang district. Two Poland national, one Israeli and a Nepali were killed in the avalanche in the village that is located in the boundary of Manang and Mustang also known as the district beyond Himalaya, Tuesday.
They had gone missing at 11:00 am when they were grazing yaks at Naar village as the avalanche occurred, according to Nepali Newspaper reports. Police have confirmed the death of four people while their identities are yet to be confirmed adding 27 were rescued in avalanche.
It takes 11 hours from district headquarters Chame to reach the incident site. Storms and continued icefall are preventing police from launching full rescue work.
Snowfall coupled with rains since two days have hit life hard in the upper parts of Manang. Reports further said headquarters Chame, Dawal, Naar, Bhraka, Tanki Manang, among others, are receiving icefall.
Snowfall has affected locals of nine VDCs of upper Manang and tourists at the Annapurna Circuit Trek, the himalayantimes reported citing tourism entrepreneur Binod Gurung.
In a separate report incessant rainfall has stranded trekkers on the Annapurna Circuit. The rains have marooned foreign tourists at Pisang, Upper Manang, Yakkharka and Thorang Base Camp.
Likewise, six VDCs including Lomanthang of upper Mustang, and Muktinath and Kagbeni in the lower parts have received snowfall icefall.
Lomanthang has four feet high snow and snow could explicitly be seen even in Jomsom.
Snowfall has also affected barley harvesting activity and apple in upper Mustang.
Treks to Sikh, Ghorepani, Bhurungtatopani, and Dhaulagiri Base Camp have been cancelled due to extreme weather in Myagdi district.
The effect of Hudhud Cyclone that hit India's east coast has been felt across the country.