News
(English) People residing around TIA at high health risk: Experts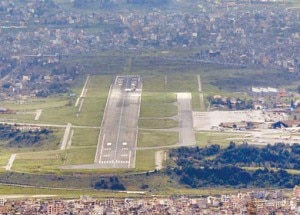 KATHMANDU, Nepal–With the air traffic has increased significantly; around 100,000 people living around the Tribhuvan International Airport (TIA) area are at high health risk, experts warned.
According to Kathmandu Metropolitan City (KMC), the number of households in the area has doubled in the past 10 years. An estimated 25,000 households currently live in the area, nearest being 50 metre away the runway. 
The airport manages 194 domestic and 64 international flights, on average, on a daily basis, officials said.
Sarita Rai, administrative officer at the KMC Ward Number 35, said over 20,000 households live in traditional houses without a sound proof mechanism right under the planes' route. There are over 100 schools, and about a dozen hospitals and polyclinics in the area.
According to school teachers located just 100 metres from the runway, teachers have shout at the top of their voice in classes during take-off and landing. Doctors warned that the noise pollution can cause hearing impairment, hypertension, heart disease, birth defects, stress, annoyance, sleep disturbance and changes in the immune system.
Officials at the TIA Improvement Project argued that the noise pollution was due to limited airport space, geographical structure of the Valley and lack of tree plantation.
The International Civil Aviation Organisation has asked its member states to adopt measures to diminish the number of people affected by aircraft noise. However, the government has not followed the request.