News
(English) Rafting in Capital? Bagmati is ready to travel you the city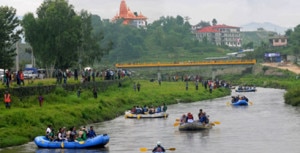 KATHMANDU, Nepal–Do you have any plan for rafting in the Bagamati, once considered as one of the most polluted river in the capital? If you have not enjoyed rafting in the Kathmandu, come on and ready to travel the city since the pollution in the river has slowly becoming clean. Anyone can enjoy the rafting in Bagamti than making plan to seek for huge river travelling distant of miles as gone are the days when a person used to walk across the river with a mask on his face.
Aiming to create mass awareness about the utility of a clean and eco-friendly water body, cleaning and removing the plastic related dirty on each Saturday when the government officials and people from various walks of life take part the Cleanup Campaign, has become the regular routine and the trend of the Kathmanduties.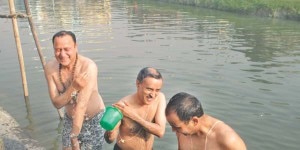 The Bagmati River Cleanup Campaign started to revive the originality of the river and its confluents has entered into 66th week. The cleanup campaign was started a year ago.
President, Ministers, top guns of major political parties, high level government officials, former ministers, security personnel and employees of government and private organisations and their representatives have taken part in the Campaign.
Hundreds of metric tons of garbage have been removed from the riverside during the campaign, which also see sapling plantation.
The dedication of everyone involved in the Campaign, those who volunteered their hands once every week to clean the river has become result oriented. The Bagmati today is free from pollutants; the water that flows in the river is much cleaner, so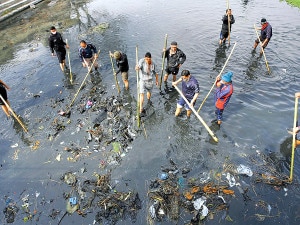 much so that one could bathe in the river section of Pashupatinath Temple area.
According to Kishore Thapa, secretary at the Ministry of Urban Development, the water that flows up to Pashupatinath area is safe for taking bath, and it has been scientifically proven.
The weekly campaign has spread the message that river cleaning is an integral part of city cleaning and beautification.
In the meantime, Ministers and leaders from various political parties rafted along Bagmati River to help raise awareness on Bagmati Cleaning Campaign, Tuesday morning.
Former Prime Minister Madhav Kumar Nepal, Minister for Urban Development Narayan Khadka, Minister for Law and Justice Narahari Acharya and Chief secretary Leela Mani Poudal participated in the rafting campaign that started from Gothatar to Pahupatinath Temple area.