News
(English) Reckless driving habit?, Radar gun is detecting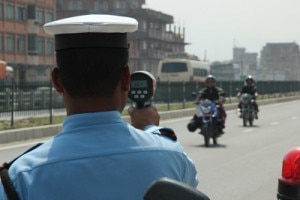 KATHMANDU, Nepal–Do you drive a vehicle in high speed? Be careful! If you have reckless driving habit, you will be punished by Metropolitan Traffic Police Division (MTPD) in the Capital Kathmandu.
With an aim to make traffic movement smoother and strictly enforce speed limit, the division has come up with an idea of radar guns equipped with integrated video recording system that will detect the speed above than the limitation as fixed by the traffic police division.
The new radar gun can measure the speed of vehicles coming from more than 700 metres away. The camera-like device measures the speed in real time through its radio transmitter and result is displayed on its screen.
The recently procured digital gun, also known as speed gun will detect vehicles plying along expanded road section on the Tinkune-Surya Binayak and Araniko Highway. The MTPD has fixed a speed limit of 60 km/hr on the 9.14-km six-lane road.
Traffic police is working out   to fix speed limit on some newly expanded road sections in the capital city.
Earlier, the traffic police used handheld radar gun that could only detect the speed of the vehicle coming from the short distance in the same road section. However, the old radar guns are not in operation now since they encountered technical errors.
The use of the new radar guns is expected to act more earnestly to prevent road accidents caused by high speed. Expert say the new device will also help ensure road safety for drivers, passengers and pedestrians alike.
They have requested the government authorities to apply this device across the country since high numbers of people have lost their lives in road accidents across the country.
According to the MTPD, motorcycles top the chart of speed limit violation. Around 80 per cent of drivers caught violating the rule are bikers on the Tinkune-Surya Binayak road section. Traffic police said the gadget would make the drivers more careful and responsible to abide by the law.
According to a Traffic Directorate report, some 130 major accidents and thousands of minor ones are reported every day in Kathmandu.
The growing number of vehicles in Kathmandu has far outdone road capacity, resulting in congestion.
The Word Health Organization's (WHO) most recent Global Burden of Disease (GBD) study reported road traffic accidents as one of the fastest growing "epidemics" in the Southeast Asian region.
Most of the world's road fatalities occur in low and middle-income countries, which have less registered vehicles, according to WHO.
In the meantime, the Traffic Directorate is planning to introduce road safety education in schools, and said it is making awareness campaigns a priority.