News
(English) 35,000 Nepalese set world record for biggest human flag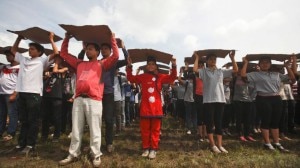 KATHMANDU, Nepal–In an official attempt to set a Guinness World Record for the largest human national flag and send a message of national unity to Nepali people living around the globe, thousands of people assembled at Tundikhel, Kathmandu, on Saturday.
Nearly, 35,000 people carrying coloured placards amassed at Tundikhel to form the patterns of the Nepali flag.
The current record is held by Pakistani nationals. At the call of Punjab Youth Festival 2014, 28,957 participants formed the Pakistani flag in February 15, 2014, at the National Hockey Stadium in Lahore, Pakistan, according to Guinness World Record site says.
Well-wishers have congratulated the organizers for the world record attempt. According to them such move will bring unity and solidarity so far the national issue is concerned.
"I'd like to salute for the 35,000 + patriots gathering at Tundikhel to form the largest human flag ever made in the history of the world to express your unity and solidarity in the national issue" says Ram Kumar. Kumar also urge the constituent assembly members to get lessen and proclaim a new constitution to make a country live.
Kamal Sharma also congratulate the organizer and thank to 35,000+ volunteers for this great job. "This shows that we Nepalese are united and ready to work together", Sharma said.
Twenty two years old Nitesh Chettri expressed his pleasure at being a part of the show. "Like many others, I got to be one of those who created this biggest flag," Chettri said.
Nepal's attempt at the record was documented from a chopper. The video content recorded in during the course of making the flag will be collected and sent to Guinness Book of World Records as proof, Bhabesh Khanal, the chairman of the event organising committee, says.
The organiser plans to send signatures of the chairperson of Maiti Nepal Anuradha Koirala, lyricist of the national anthem Byakul Miala and Mega Bank Chief Executive Officer Anil Shah with the video footage, he adds.
Saturday's human flag was measured at 128 metres wide and 168 metres long. The flag covered an area of 238,455 sq ft, according to organizer.
On the occasion, Minister for Youth and Sports Purushottam Paudel said the forming of the flag with the participation of such a large mass would project a message of unity and national feeling.