News
(English) Mission 2 for 7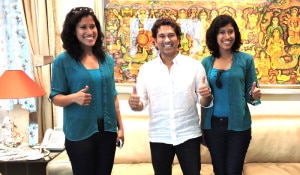 KATHMANDU, Nepal–One of the first things they learnt in current affairs was the countless records set by the batting legend, Sachin Tendulkar. "We are so proud that an Indian had raised the platform for cricketers around the globe," says younger of the twins, Tashi malik. "And though we never played cricket ourselves, in all our pursuits, we had a kind of perfection' in Sachin" quips Nungshi.
The twin sister from the distant village in Hariyan state wanted to do something real big for the world, especially for marginalized women and girl. "When we discovered our passion for mountaineering, we looked at nothing but the highest peak, Mt. Everest", they say.
And what these twins in rural Haryana have accomplished, no twins one in the world have. Negotiating past an obstinate mother for over two years, who warned to commit suicide if they ever spoke of climbing Everest, the twin sisters at 21 years of age, stood on top of the world on 19 May 2013, making history as world's first twins to do so.
Their mountaineering dream did not end there. It only grew bigger. They are now on "mission2for7" to scale the highest peaks in all 7 continents for the cause of the Indian girl child. Tashi says, "climbing Everest was a personal dream, for pure passion to stand on top of the world, but "mission 2for7″ was born out of our desire to use our passion for social good, and what better than accomplish what no twins in the world have".
Only 300 people have so far accomplished to scale the famed 'seven summits'. It is an incredible journey of persistence, fortitude and 'never give in' approach which has seen the twins successfully climb the highest peaks in six continents, with only one remaining, (Mt Vinson) in Antarctica.
In the process they have made six world records, perhaps the highest number by any Indian mountaineer. Scaling the 7th summit will make them world's first twins to stand on top of every continent, a historic milestone by Indian women.
The twins are in the city to appeal for funding support. Mountaineering is an expensive sport. The six peaks have cost over 1 crore, using up all the savings of their retired army officer father and mother who is a house wife.
When she finally nodded, she too came forward with deposit her jewelry against gold loan from HDFC bank. Only about 35% funding support came from the govt and the corporate. Rest has been our parents' life time savings and donations by spirited individuals from India and abroad.
Interestingly their fellow Everest climber from Pakistan, Samina Baig has recently climbed all 7 summits, nearly 5 months ahead of twin sister, simply because she received adequate funds in her country. While her feats are a 'national first' twin sister or Everest sister's are a 'world's first'!
It is ironical for a country of India's size and economy not to be able to support its own girls on a historic mission.
Large funds is only one part of the challenge, the very risk to life and limb and the high chances of mission failure due to bad weather in these extreme altitudes make it a very uncertain and risky enterprise.
To the credit of the twins, they have climbed all six peaks in their very first attempt despite some heavy snow storms and losing several members of their expeditions.
Their climbing speed and tenacity has earned them the nicknames 'Rajdhani' and 'Shatabdi' express from fellow mountaineers and instructors.
We are climbing the 'visible mountains' to draw attention to the daily 'invisible' mountains that millions of our young sisters and girls have to climb, the mountains of exclusion, neglect, social ostracization, back breaking domestic chores, malnutrition and human indignity."