News
(English) Clinching a tree for whole night, mother and son survived flood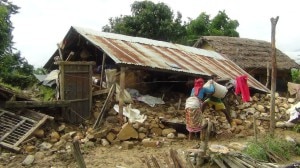 KATHMANDU, Nepal–Kanika Chaudhari, a resident of Urahari VDC-6 of Dang district, was in sound sleep, last Friday night. A loud noise outside her house echoed her ears. Before she could conclude what it was, she was awakened by her hubby, Khuita Chaudhari. "Our house is likely to be swept away by flood; let´s flee my dear," cried Khuita.
No sooner they started to rush; the family lost their pair of oxen. They became mere spectators from windows while a few goats and chickens were  swept away by the flood. After hurriedly picking up a sack of rice and bag containing money and ornaments, she descended upper storey to call their 18-year-old son, Moti Lal, to immediately leave the house.
At this moment, Khuita and Kanika both reached higher grounds, where they could feel safe. But, Moti Lal did not arrive until 5 minutes later. Initially they dared to risk their lives to alert Moti Lal and bring them up.
As a mother Kanika took a chance to save the son and went back to her house, the house was almost water logged and Moti was trapped inside it. Kanika somehow broke open the door and entered. But, unfortunately before they could get outside, the house collapsed.
They somehow managed to climb up the roof of a nearby toilet and climbed up a haystack. As they stood on the top of the haystack, they could hold on to a branch of a tree.
"My son said we must keep holding on to the tree come what may," she was quoted by myrepublica adding that her son had faith in the tree while she had in him. Thus they survived the flooded night clutching the tree branch.
Back on higher grounds where the flood survivors including Kanika´s husband Khuita, were staying, no one was sure that Kanika and Moti Lal would return alive. Khuita had already started to mourn the wife and son.
However, the next morning when floodwaters started to drop off, Khuita went in search of his missing wife and son. To his surprise, Kanika and Moti Lal were holding on to the tree.
"I was praying to the God for the bodies of my dear ones," says Khuita, "But, luckly I found them alive."
At least eighteen people were killed and three dozen other went missing on last Friday when flash floods triggered by incessant rains for the past two days swept away scores of houses in various parts of the district.