News
(English) Hence no more foul words from helpers in public vehicles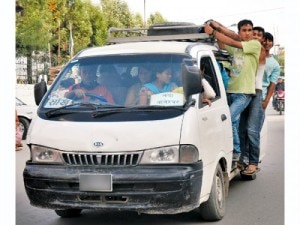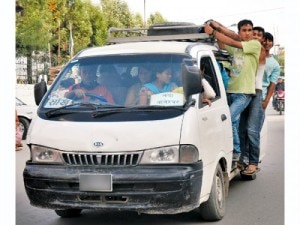 KATHMANDU, Nepal–Shyam Maharjan, a minibus driver, does not want to be ticketed by the traffic police. Thus, he has clearly instructed his helper to perform his soft tone while dealing with passengers. "Our dealing with passengers is changing now. We try our best to behave respectfully with commuters", says 43-year-old who was meet during his Laghenkhel-Ratnapark route, Monday. Shyam has witnessed many experiences both from the helpers and the passengers during his 10 years driving journey in the Capital Kathmandu.
Helpers and sometime drivers used to be naughty with the passengers in those early days, but time has changed and such rudeness behavior with own passengers has now becoming past time story with the drivers and conductors have been more accountable to passengers.
With a beginning of a campaign of strictly monitoring public vehicles, especially microbuses by the traffic police in the Kathmandu Valley, the complains of the passengers pointing towards the foul words of the driver and conductor has decreased. "I found slightly change in conductors behaviour as I havenot listened any reckless word from their mouth, " Rabina Nepal who regularly travel in microsbus of ring road told this portal. According to her due to the fear of fine from the traffic police, drivers have also becoming a bit polite to passengers.
The traffic police has been asking commuters if the driver or the conductor has misbehaved with them or not and vowed to take action against any misdoing. The campaign initiated from July 11 has gaining its popularity.
Ravi Palikhay, a microbus helper, said many conductors like him have stop using rough word following the campaign that aims to maintain law and harmony in the society. "Earlier we wildly used foul language without caring about passengers. But due to the fear of fine from the traffic police, we have started to care for the passengers", he told
Ravi claimed that polite behavior from drivers and conductors in public vehicles have even discouraged the impolite passengers who disputes and argue unnecessarily while giving travel fare.
Ever since the Metropolitan Traffic Police Division (MTPD) launched a crackdown against microbuses, the authority has already monitored 6,452
microbuses and fined 1,456 microbuses on charge of violating traffic rules or misbehaving passengers in some cases.
Stakeholders have lauded the traffic police's initiatives.