News
(English) Sexual harassment, a burning problem in public vehicles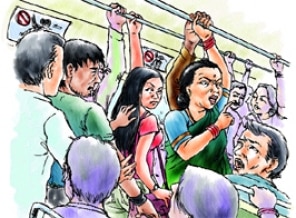 KATHMANDU, Nepal–"…Please moves inside, you are not allowed to stand near door… Go inside…….."
"…Where to move as there is no place at all…"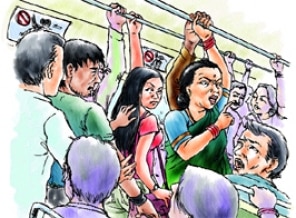 We are accustomed to hear such dialogues between helpers and passengers while travelling in public vehicles in the Capital Kathmandu. In this absolutely stepped world, everyone has a rush to meet the destination. We become the part of the very crowd which we often repel. Being crowded in any public vehicle can't be regarded as a serious crime; however, the issue is a sexual harassment against women which has become the most burning problem these days.
"I have to travel in a crowded bus, but I find most of the people in public transport very wicked," Rabina Sharma of Lalitpur shared her experience while travelling in public bus in the Capital to Nepal Mountain Focus. According to Rabina, male passengers beset her by pushing and sometimes they go beyond extent and touch sensitive organ of her body, embarrassing herself and others in public places.
Nisha Thapa, a marketing officer working at a media house says she frequently faces sexual abuse while travelling in public vehicles mainly at the rush hours. "Sometimes, I wish I had my own private vehicle so that I could travel in a freedom manner," she further told her experiences with this portal.  She even had to embarrass inside a vehicle while seeking explanation from a abuser as the latter scolded her saying that she should own a vehicle if she want to travel comfortably.
The issue of sexual harassment in public transportation has gone rampant while it has always been neglected by concerned stakeholders. Neither the victims nor the responsible agencies take the issue seriously. The victims even fear to lodge case against the culprits due to social stigma and insecurity.
Advocates complain that Nepal lacks the law that does not have adequate provision for the protection of women from various forms of sexual harassment.
Pooja Singh, inspector at Women's Cell in Police Headquarters says a few complaints come to the police station and victims just raise the issue informally.
According to a report disclosed by World Bank, titled "Gender and Public Transport in Nepal," the No. 1 problem for all commuters is overcrowding.
Women comprise at least one third of the traveling public in Kathmandu, with one in three feeling insecure in public transports.
According to the Department of Transport Management, 1 million people use public transport daily.
Traffic Police in the Kathmandu Valley have started to follow up to ascertain reservation of seats in public transport after the women complained various forms of abuse in public vehicles.
Police have supervised over two thousands micro buses and directed them to allocate reserved seats for women and disabled people.
The authority has now begun to throw their glance in the public vehicles whether they are enjoying their rights or not.