News
1,349 workers make their way to foreign land daily: Department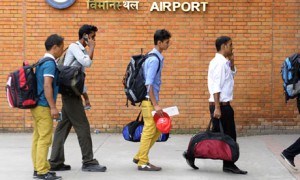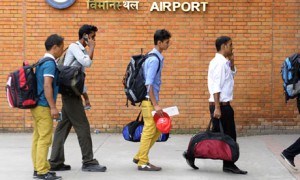 KATHMANDU, Nepal–A total of 492, 532 Nepali migrant workers left Nepal for foreign works in 2013/14.
Among them, 461,769 were male, while 30, 763 were female, according to the Department of Foreign Employment  (DoFE) under the Ministry of Labor and Transport Management.
In average, 1,349 migrant workers make their way to foreign land, mainly gulf countries each day according to the department. However, 100,000 migrant workers who tripped to overseas job via neighboring country India have not been included in this figure.
Likewise, people wishing to go for foreign job, increased by 59,506 in 2013/014 as compared to the previous year. Officials at the department said the individuals going abroad via southern neighbor faced some hurdles in foreign land, as they left without being aware about the future situations.
Currently, the number of Nepali women toiling in Gulf countries through Indian territories is quite large and they are highly vulnerable to sexual and labor exploitations. Their situation becomes uncertain soon they landed in foreign land as the Nepali Embassy cannot trace their situation since brokers seize their passport. The largest number of Nepalis (166, 898) went to Malaysia last year, followed by Qatar (112, 079), Saudi Arabia (74, 391), UAE (48, 634) and Kuwait (20,724). Malaysia has turning into the dreamland for Nepali workers as its climate is similar to Himalaya and people can work easily.
Most of the security guards in Malaysia are from Nepal and the country has granted a top priority to them. Likewise, Qatar is also hiring more Nepali workers as it is hosting the 2022 FIFA World Cup.
Female worker died in Damascus
In the meantime, a Nepali woman migrant worker has been lying in the morgue of a local hospital for the past three months.
Sunita Darji of Sankhuwasabha district, who had illegally reached the Syrian capital Damascus via India a year ago to work as a housemaid, had apparently died three months, Foreign Ministry sources said quoting Nepali embassy in Egypt, which looks after affairs of Syria.
The government of Nepal has imposed ban on Nepalis for taking up employment in the Middle East Countries.