News
Task force formed to address climbers' demand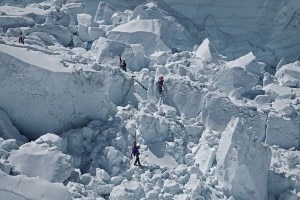 KATHMANDU, Nepal–The government of Nepal on Monday set up a task force to study the demands raised by Sherpas in the wake of April 18 Everest tragedy, that killed 13 Sherpa guides leaving three other missing.
The task force, led by the chief of Tourism Industry Division under the Tourism Ministry, includes representatives from Nepal Mountaineering Association, Trekking Agencies Associations of Nepal, (TAAN), Expedition Operators Association (EOA), Nepal National Mountain Guide Association and Himalayan Rescue Association among others.
Earlier on Sunday, the climbers and other stakeholders organizing a meeting at the Everest base camp had asked the government to set up the welfare fund, increase of insurance amount and provision of education to the children of victims among others.
"A monument will be built at an appropriate place in memorial of the deceased mountaineers. He further urged the stakeholders, including foreign climbers and tourism entrepreneurs, to be patient and help in the rescue operation" Joint Secretary at the Tourism Ministry Madhusudan Burlakoti said in a statement.
Insurance amount doubled
In the meantime, the government has doubled the insurance amount of the support staff employed during expeditions to various mountains including Mt. Everest.
The Ministry of Culture, Tourism and Civil Aviation raised the insurance amount for the Sherpa Sardar guide, high altitude worker and local workers to be effective from the spring season of 2014, according to a statement issued by the Ministry.
According to the Ministry, the insurance amount has been increased from Rs. 500,000 to Rs. one million for the Sardar, to Rs. one million from exiting Rs. 400,000 for the climbing guide, Rs. 800,000 from Rs. 350,000 for the base camp workers and Rs. 500,000 from Rs. 250,000 for the local workers.
Likewise, the medical insurance for all has been increased to Rs. 300,000 from the existing Rs. 50,000, according to the statement.