News
(English) Half a dozen climbers feared dead, scores missing in Everest avalanche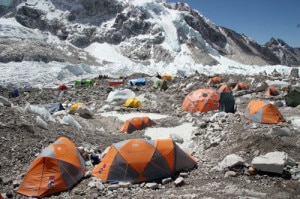 KATHMANDU, Nepal–An avalanche on Mount Everest on Friday morning killed at least six climbers, leaving several other injured. Other nine mountaineers have gone missing in the snowslide. Krishna Lamsal, Under Secretary of Tourism Ministry said six mountaineers were succumbed to avalanche.
"At least six climbers have been killed and several others have gone missing in an avalanche that took place this morning at 6:30. The causality may be more and it will take few hours to confirm the number of causality", Lamsal told to Nepal Mountain Focus over phone from Everest Base Camp.
According to Lamsal, fifteen climbers were heading towards the first camp (camp 1) from the Everest Base Camp in Solukhumbu region when the incident occurred.
Dead bodies of four mountaineers have been recovered from the avalanche site. However, the identification of the deceased is yet to be confirmed.
Nima Nuru Sherpa  of Cho Oyu Trekking Agency also said that at least half a dozen mountaineers, mainly Sherpas were killed in the avalanche. "It has been reported that at least six Sherpa climbers were feared dead following a dreadful avalanche," Nima told to NMF.
In the Meantime, a separate report from Khumbu claimed that 15 mountaineers belonging to Alpine Asian Expedition team were died in the avalanche. The report quoting Jeevan Ghimire, Managing Director of the Peace Nepal Treks, further claimed that 14 dead bodies have already been recovered from the incident site.