News
(English) No climbing on Everest sans local guide!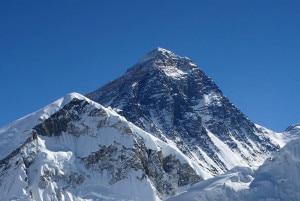 Are you planning to scale Mount Everest without aid of a local guide or support staff this season? If so, you will not be allowed to attempt the peak as the government is planning to make it mandatory to take the guides or other ally along with mountaineers.
In a bid to ensure the safety of the climbers attempting to scale Mount Everest and other peaks above 8,000 m the government is working out with new rules with the onset of this climbing season, Ministry of Culture Tourism and Civil Aviation informed.
At a time scores of climbers have been reported to have been affected by high altitude sickness due to lack of proper knowledge, the government planned the idea of assigning one staffer to each climber.
The government wanted mountaineers to be accompanied by high altitude local guides since latter are well aware of the geography and strong enough to handle risks in high altitude zones.
"The objective of the rule is to ensure climbers' safety in addition to increasing employment," ekantipur quoted Madhu Sudan Burlakoti, chief of the industry division of the Tourism Ministry as saying.
The government is also planning to table this proposal in the upcoming joint meeting of the Himalaya host countries Nepal, India, China and Pakistan scheduled to be organized on April 18 in the Capital Kathmandu.
The proposal to be tabled jointly by the Ministry and the Nepal Mountaineering Association (NMA) has it that climbing expeditions will have to hire two local guides for every two mountaineers for peaks above 8,000 m, and one local guide for every three climbers for peaks above 7,000m.
The meeting will also talk about mountaineering rules and environment issues.
In the meantime, president of NMA Ang Tshiring Sherpa said that the mandatory provision of hiring a guide for each climber will also bring forth more jobs in the mountaineering sectors.
NMA is mulling over to ask for recognition of six more eight thousanders in Nepal during the meeting. The six peaks for which separate eight-thousander status is being sought are Yalung Khang, West Yalung Khang, Kanchanjunga Central, Kanchanjunga South, Lhotse Middle and Lhotse Shar. They all lie bordering China and India.
In the meanwhile, the government has also made it mandatory that climbers willing to set records should inform the Ministry ahead of their departure for the peak.
According to the Ministry, 4,411 people have atop Everest since the first ascent in 1953 and around 250 mountaineers have died on the peak so far.