News
(English) Transgender Monika in Everest bid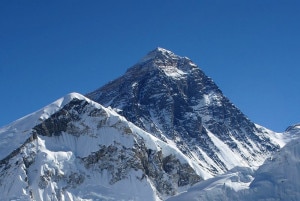 KATHMANDU, Nepal– With a mission of making LGBTI (Lesbian, Gay, Bisexual, Transgender and Intersex) community known to the world, a transgender said she will climb the Mount Everest soon.
Manoj Shahi Monika, 35, who describes herself as a transgender, has announced her plan to climb the tallest peak in the world soon. During a programme organized by Blue Diamond Society (BDS) in the capital Kathmandu on Tuesday, Shahi said she is physically and mentally ready to scale the peak.
On the occasion, she announced that she would waive the national flag of the country along with a Blue Diamond Society banner and set a new Guinness Book of Records.
However, according to transadvocate.com, Monika isn't the first transgender person to be on Mount Everest, not by a long shot. "Nineteen years before Hillary and Norgay's successful summit, British climber Maurice Wilson attempted and possibly reached the peak", the website further reports, "Little is known… she was transgender, or mad, as gender diversity was deemed then."
The aspiring climber has requested the government to discount on the climbing royalties as she could not garner sufficient fund for her endeavor. BDS President Pinky Gurung asked the government to manage required fund or waive off climbing permit fee for Everest so that she would succeed in her aim.
BDS is an organization which has long been campaigning for the rights of LGBTs in Nepal. Their issues have continuously been raised both in the street and the parliament following its initiations.
Supreme Court of Nepal has already given a crucial verdict to grant citizenship to third genders under the 'other sex' category while the government is preparing to issue them passports by mentioning their gender identities which have made them feel lucky to be born in the country.
"I have heard that sexual minorities are murdered in some countries due to their unique identities," Bishnu Adhikari, a transgender man proudly says, "We are lucky enough that we were born in Nepal, for we have the freedom to disclose our identities here."
Hundreds of aspirant mountaineer have scaled the peak after the legendary mountaineers duo conquered the peak on May 29, 1953.