News
(English) "We made it to the top despite challenging weather", Seven Summit Women Team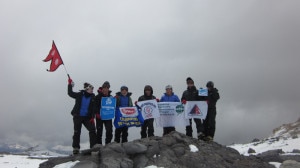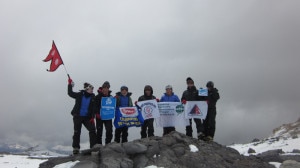 KATHMANDU, Nepal–The Seven Summits Women Team said despite the challenging weather it faced during climbing, they conquered the top of Mt Aconcagua (6,960.8 metres) in the 9th day of expedition.
"After 23rd, the weather has been exceptionally worse with lot of snow in the region," wrote the team's coordinator Shailee  Basnet in a email provided to NMF.
This was the 5th climb of their mission to atop all the tallest mountains of the seven continents. They will be climbing Mt Denali (5,500 m) in North America and Mt Vinson (4,892 m) in Antarctica next.
Four members of the team made it to peak on last Sunday around 6:15 pm local time. Chunu Shrestha, Nimdoma Sherpa, Asha Kumari Singh and Pema Diki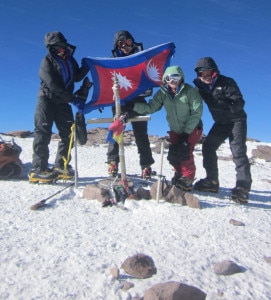 Sherpa waved the Nepali flag and hoisted flags and logos of supporters on the top of the South American continent.
Maya Gurung and Shailee Basnet decided to return from Plaza de Independencia at 6400 m, as their hands ran the risk of frostbite while Pujan decided to join Shailee and Maya on their way back. "We were using old mittens which turned out not to be good enough for Aconcagua," Basnet wrote.
The team will also be interacting with students, local women, environmental organizations and promote destination Nepal in Argentina and Brazil. It is also planning to celebrate the International Women's Day in South America.
The team members originally came together in 2007 to climb Mt Everest in 2008 spring.
The expedition was called 'First Inclusive Women Sagarmatha Expedition 2008 Spring' (FIWSE). In addition to Mt Aconcagua, they have climbed Mt Kosciuszko, Australia, 2010 (2,228 metres) and Mt Elbrus, Europe, 2013 (5,642 metres).
The climb has been supported by Government of Nepal, Nepal Tourism Board as well as Trekking Agencies' Association of Nepal (TAAN), The North Face, Panchakanya Group, Golchha Organization, President Travel, Association of Chartered Accountants Nepal, NEBICO, Mountain Delight Treks.