News
(English) Locals join hands to study big cats in Himalaya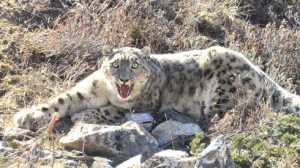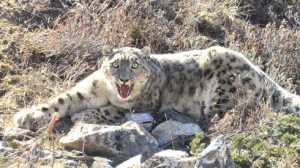 KATHMANDU, Nepal– In a bid to find out the exact number of snow leopards in the Himalayan region, locals in Langtang area have come together to carry out a thorough study on these rare species.
A team of trained locals is planning to leave for mountains of Langtang area, located at north of the capital Kathmandu, under the direct supervision of World Wildlife Fund (WWF) and Snow Leopard Conservation Committee (SLCC), Langtang  in March, a source at WWF in Kathmandu informed.
The team that recently came back from Kanchanjunga area after accomplishing a first phase of training was deployed in the Annapurna area in western Nepal to scrutinize the daily activities of the big cats. The SLCC have been offering them required training.
The team will spend a week in the peaks and observe the animals thoroughly.
The actual number of snow leopards in the Langtang area is still uncertain. According to a report prepared by SLCC there are around five snow leopards in the area, however the local firmly believe that there are more big cats.
The local used to consider this big cat as their big enemies after their livestock were easy prey for them, however, with the publicity about the significant of wild life and particular following the training, they have learnt that snow leopards are an intricate part of our environment.
Langtang is a region in Nepal to the north of Kathmandu and bordering Tibet. It is protected as Langtang National Park and has a number of high peaks including Langtang Lirung.
Just two months ago, a first snow leopard was captured and fitted with satellite collars for the first time in Kanchenjunga Conservation Area (KCA) in eastern Nepal, where Mt Kanchenjunga, the world's third largest mountain rises on the Indian border.