News
(English) Dozen endangered vulture found dead near 'vulture restaurant'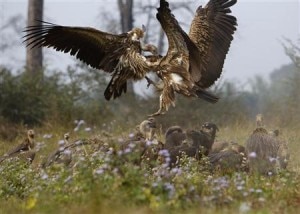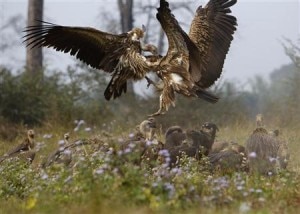 KATHMANDU, Nepal–Eleven vultures of critically endangered species were found dead near a "vulture restaurant" set up about seven years ago in Nawalparasi district, some 150 kilometer south of the capital Kathmandu.
Locals suspected vultures died after feeding on the poisonous carcass of jackal found nearby the endangered birds. It is said that this the first time birds in such a great number have died at once since nine deaths last year.
Aiming to keep the environment clean by disposing of carrion, from extinction, five years ago, Bird Conservation Nepal came up with the idea of "restaurants." Bishwojyoti Nepal in Panch Nagar, Jatayu Restaurant in Pithauli and Happy Flights Group in Tilakpur have been working for the last few years to conserve rare birds in the district.
There are around 300 vultures of eight different species in the district. The vulture restaurant has become a tourist attraction in the impoverished villages of the district.
According to a report unveiled recently, about two decades ago there were about 50,000 nesting pairs of the two vulture species in Nepal, but hardly 500 pairs remain now.
Two species of vulture — the White-rumped and Slender-billed — are listed as critically endangered in Nepal, India and Pakistan.
Despite the vulture's positive description in Hindu mythology as fighting to release Sita, wife of the god-king Rama, from the clutches of a demon, the birds are widely reviled as the harbingers of bad luck