News
(English) Tenzing Hillary airport witnessed 35 thousand tourists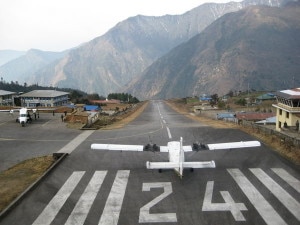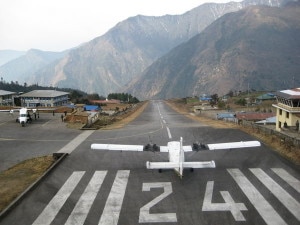 KATHMANDU, Nepal–The Tenzing Hillary airport located at eastern province  in Nepal witnessed as many as 35,201 tourists in 2013. Of the 40,767 passengers who landed at Lukla airport, some 35,201 were tourists.
Likewise, a total of 84,000 passengers landing and taking off in 2013 using flights by various companies.
As per the data of Authority,  40,767 passengers reached there  from Kathmandu while 42,996 passengers left for the capital from there during the year.
The number of passengers departing Lukla via air is more by 2,229 than those who left for there.
The number of passengers leaving Lukla is higher as many locals too travel to the capital while tourists going through Jiri of Dolkha also return via air.
Likewise, planes ferrying cargo to Lukla are accustomed to take back many tourists guides in comparatively cheaper fare.
Also known as Lukla airport, it is a small airport in the town of Lukla in Khumbu of Solukhumbu district.
Regarded as the most dangerous airport in the world, it is comparatively one of the world's most busy airports too, as planes land and takeoff there one after another.
History Channel had rated Lukla airport as the most dangerous airport in the world in 2010. The runway of this dangerous airport is measured by 460 m (1,510 ft) in length and by 20 m (66 ft) in width.
Carved out of the side of a mountain, the airport was constructed by Sir Edmund Hillary in 1965 — 12 years after he became the first man to ascent the world's highest peak — to help Sherpas.
Just 133.5 km (82.9 miles) east of Tribhuvan International Airport, the only international airport in the country, high peaks, low visibility, high winds and constantly changing environment are something that every pilot who operates flight, has to face day-to-day.  The four small Lukla-bound aircraft have crashed between 2008 -2013, killing 33 people.