News
'We aim to change mountaineering trauma to opportunities in life': Fabienne Clauss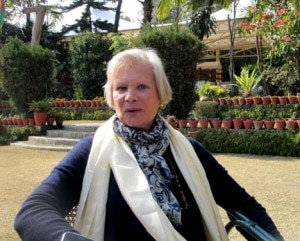 KATHMANDU, Nepal – Benoit Chamoux Foundation is the non-profit social organization established to help the orphan Sherpa children, whose fathers died on the Himalayas working for the western expeditions and to help to preserve the Sherpa culture. The Foundation that established on 1996 has been taking in two Sherpa children every year in average since then. Altogether 31 children are studying at various institutions including the Kathmandu University, Pokhara University, Little Angles School, and Himalayan International Model School among others in Kathmandu under the scholarships of the Foundation. Regarding the activities of the Foundation in Nepal, its aim, target and future plans, reporters of Montagna.TV /Nepal Mountain Focus Surendra Paudyal and Suvash Sharma talked with Ms Fabienne Clauss, founder and former chairperson of the Foundation during her recent Nepal visit. Here is an excerpt of the interview.
Please, brief us about your foundation Benoit Chamoux Foundation, its main objectives and targets?
When we created the Foundation in March 1996 under the aegis of the Fondation de France, we created it with the objective of doing projects for the Sherpa community culturally and socially to help preserve Sherpa culture and to help all those mothers and children of the Sherpa family who were hit hard socially and economically after the loss of their fathers in mountaineering. We started projects in Khumbu renovating cultural places which were dear to the Sherpas in five places of Namche, Khumjung, Thinboche and in Langtang and Makalu valleys. Every year there were some accidents in the areas and the children lost their parent in the mountains. So, we took two among them in average every year and help them in their studies. And 18 years have gone in doing the same and we have 31 children now. Because of adequate money and to give proper attention towards them we don't want to increase number, though.
And doing all this, our main target is to change the trauma of the mother and children to the opportunity in life. Because all the mother and children are gone through a trauma and we aim to change that with opportunities.
What inspired you to establish the Foundation? What is the motive behind the establishment of the Foundation?
For me, I myself lived with a trauma. I lost my husband in mountaineering. And it was like an emotional reaction that I had to do something for this emotional reaction. And these people needed help. And I think by helping them I helped myself. The trauma had completely destroyed my life but the foundation has brought me a joy. Its the same that I'm trying to bring in the life of these mothers.
Why Nepal? There are many other nations with the mountains and they have had similar stories?
This foundation is linked to a personal story and the story is connected to Nepal and its Sherpa community. So, the main aim of the Foundation is to support the Children of the community. Benoit was climbing with a Sherpa in Nepal Himalayas and he got disappeared with the Sherpa himself. So, the story is linked to the Sherpa community and its children in Nepal.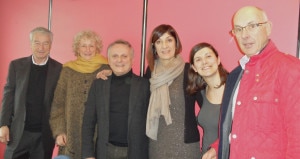 How the Foundation manage funds for students? Are there any other organizations helping from behind?
In the very beginning some sponsors helped me. Some are climbers as well. When I told them that I'm establishing this Foundation they sponsored and help with donations. Later on we did a book on Benoit Chamoux. We sold the book and the amount collected from selling also added the fund.  After I worked for the foundation for years, I made presentations on the goals of the foundation and manage funds. Also other members of the foundation and some nice parties, good people donate money that added up the fund. And at a point we began god fathering with a provision that people who engage themselves to give 1250 euros per year would have the title of god fathering. But this is not the god fathering for a single child but a god fathering for all 31 children in a group. This also helped to manage fund.  It was a well-known foundation in France so people also give small cheques. But there is no any particular organization that is helping the foundation in terms of fund. But, what I got and what I'm getting from the Himalayan Trust and its associates Ang Rita Sherpa and Pasang Sherpa is remarkable. I cann't express all these in words. Their help are precious for me and the Foundation.
How you see the role of Mr. Agostino Da Polenza in helping the Foundation fulfill its objectives?
It was my idea to establish the foundation and a lady named Michelle de Couyssy, helped in many ways. We worked together for 16 years. And after that she grew old and couldn't work actively. I too had guided the foundation for a long years and told the similar stories in many presentations and with many people. For me death of Benoit was a great trauma and a never forgetting past which I don't want to recall anymore. So, I decided to work from other side. At this point, Mr. Agostino, who used to be a good climbing friend of Benoit and himself a good climber helped me and chaired the Foundation. When we decided to form the Foundation he was the part of the committee.   He was always with the Foundation. Ever ready for helping the children. Every year he signs a cheque for the foundation as well. And his help is precious for the better future of Sherpa children. I hope Agostino will find more funds so that we can enroll more children and can be able to wipe out tears of more mothers.
Until when the foundation help students? What after they complete their high schools?
Normally we help children until they finish their high schools. Unless and until other funds were managed, our Foundation would help children until the little one who is studying in class one now completes his high school education (12 class). At least 12 years or 15 years until he finishes he studies. As I am not active to raise funds these days, if Agostino, the chairperson of the Foundation, manages more funds so that we can afford more children in their education, we will continue helping them. We also think that we have now set and shown an example and empower the Sherpa community in various professional sectors as well. Now we have Sherpa Doctor, Engineer, Environmentalist, Physiotherapist, Nurse, Dentist and there are many others. At this point they should do themselves something for their community. And we have also persuading them for that.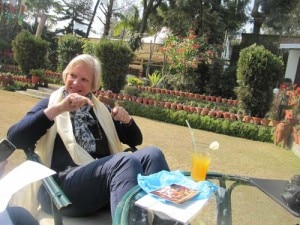 The children are from the mountaineering background but when we talk to them almost all seemed reluctant to the professions of mountaineering and expedition. Rather they wish to pursue their career in other fields of profession. What do you think the reason behind that?
Mountaineering profession of their fathers was very dangerous. Some of them were mountaineers, a few were porters. I think they have understood the risk in the profession that their ancestors have chosen.   You have to take into account that they all are impacted by mountain trauma as each of their beloved ones who left for climbing never returned back from the peaks. All of them have lost their father in the mountaineering. The cherished dreams of innocent Sherpa women were shattered with the untimely death of their husbands. I lost my husband. The life of the Sherpa women and children were destroyed so I think this is a good reason behind their reluctance towards mountaineering. Also, stress and dismay of the children while losing one of their parents is such a haunting moment that they are not in a situation to revive their past miseries through the expedition once again.
Don't you think the Sherpa children also (should be) grown up with mountaineering talents? And they should continue the profession of their ancestors?
Of course! Why not? Few students of ours are also perusing career in mountaineering. Sonam is a good example among such. He is a guide. When we meet children, we told them that they should not lose the Sherpa culture and tradition. Those are their identity. They should grow up with all those. Also we inspire children and their mother to go to their village and understand their culture. We also organize flights for them. Also we have a Sherpa cultural expert who teaches and makes the children understand their culture.   But, as Sonam and his mother told me, its very difficult to earn living from guiding alone. The trauma, risk and difficult in the profession may have guided them to other professions.
Does the Foundation motivate them in pursuing carrier in mountaineering itself?   Or any others?
No we never insist anyone to choose any profession. That's totally on the students and their mother and guardians. If one wish to be a mountaineer then why not? But as you know they have gone through a great trauma that relates to the mountaineering. So, most of them are loath to the profession. But if any one of them told me and us that he/she wants to be a mountaineer then why not? However, Himalayas are much more risker than the Formula 1.  My husband used to say that Himalayas is more dangerous, most risky job.  Himalayas is even risky than alps. There are more risks.
You have long been trusted by the guardians of the children. How you find your attachments with them?
They are my spiritual children, for me it is a new kind of motherhood. It is not an adoption. It is not biological motherhood. It is kind of spiritual motherhood. I have an impression that I and the Foundation are doing exactly the same job as a mother to the children. And we have been through the foundation giving them the possibility to get educated thanks to the committee and people and donors who are helping the Foundation. But personally it is not money, it is very spiritual link to the children. I don't know what they think of me and say about me? But for me its very important and special.  When I started there was no social networks like Skype, Facebook. But now every day I receive the Skype and Facebook messages addressing me as 'dear mom!' (laughs)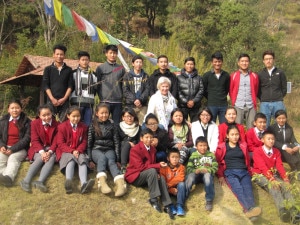 How you feel when they call you mom?
I feel happy (laughs). Its really good to work with their real mothers.
For many years you have been attached to children, do you have any unforgettable movement? Will you remember any remarkable moments or deeds at the Foundation and with its graduates?
Yes I do have such. Being attached with these children I have many unforgettable moments, but I don't tell you right now. I will write a book on that.
Any one of such moments that you can share with our readers at the moment?
The moment that I share with children and their mothers are always memorable for me.  We spent together a whole day in a picnic, share our feelings and enjoyed the company. The happy faces of both the children and their mothers are really worth for me. Also one of the children got married recently and he had specially invited me to participate in his marriage ceremony. These and all such are the moments that I have recollected for years and I think I should write a book on all that to let others know how I feel with the children.
At last, but not the least, what do you want to say more through our news portal?
For me as I told you I want to finish my project. Until and unless other children were added to the Foundation, the small one who is in class one now, finishes his study, my work will continue. I want to see all the children getting married and live with their wives, children and settled. And I want to organize a grand picnic with all of them. The content and happy family life of all the children is my only dream.