News
Medicos still in war path; begin service from open theater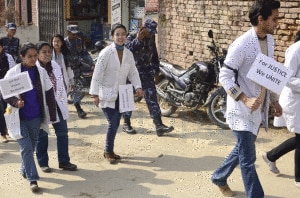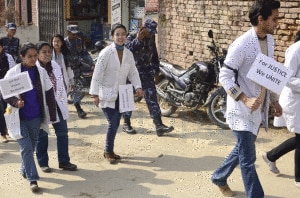 KATHMANDU, Nepal– In its bid to exert pressure on the authorities concerned to address the demands raised by Prof Dr Govinda KC, who is on the hunger strike, Nepal Medical Association (NMA), an umbrella body of doctors has requested all medical practitioners across the nation to resign en masse.
The doctors' body resorted to war path while Tribhuvan University (TU) did not implement Chairman of Council of Ministers Khil Raj Regmi's directives to annul the controversial appointment of Dean Sashi Sharma at the Institute of Medicine (IoM).
Earlier on Tuesday chairman Regmi as the capacity of chancellor of TU had directed to terminate the decision of appointing Sharma as Dean.
Organizing a press conference, at the Tribhuvan University Teaching Hospital in Maharajgunj, where the veteran orthopedic surgeon has been staging his hunger strike for the 12th day, NMA, forced to announce such unpleasant decision.
All the private and public hospital have been closed across the nation for the 5th consecutive day supporting Dr. KC' strike, leaving many patients in desert. Likewise, more than hundreds doctors at the Teaching hospital resigned en mass on Tuesday as a part to back the demands raised by Dr. KC. Though Dean Sharma quit after enduring immense pressure from the medicos, Dr KC said he would not stop his fast unto death until all his demand were meet since 'he would not sit on protest yet again'.
In the meantime, with a view to 'make easy' the patients who were stranded due to the closure of the hospitals across the country, the NMA has launched a health camp in open theater in Kathmandu.
To put back former Dean Prakash Sayami in his position, stops giving affiliation to new colleges, and prevent the political intervention in the institution are some of the demands raised by Dr. KC. Though his most of the demands have been addressed, Dr. KC is all in his endeavor to meet all those demands for the welfare of the medical institution.