News
Dreams smashed recollected by Benoit Chamoux Foundation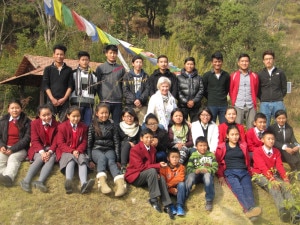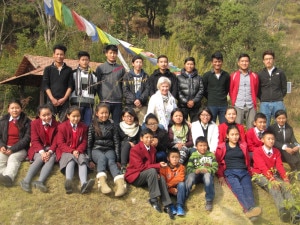 KATHMANDU, Nepal – "Don't cry because it's over, smile because it happened." The line that describes the life proved exactly true for Fabienne Clauss, widow of renowned mountaineer Benoit Chamoux. Benoit Chamoux, a French climber who was in a target to be the third man climbing all the 14 peaks above 8000 meters, disappeared in a fatal accident at Mt. Kanchanjenga along  with  Pierre Royer  and  Riku Sherpa in 1995.
"It was only a year since we got married," Fabienne recalled her bitter life with Nepal Mountain Focus, saying "My cherished dreams were all shattered and I got totally smashed". But as the line says, she didn't make her crying rather smiled and walked with a thought that 'what happened had happened'. And her same bravery, devotion and determination have helped to recollect shattered dreams of many Sherpa children and their families. She along with Agostino Da Polenza, Michelle de Couyssy and others established the Benoit Chamoux Foundation that has been helping the Sherpa children in their study and empowering the Sherpa mothers who lost their husband in course of mountaineering for the last 18 years and under the chairmanship of Mr. Da Polenza currently.
Students speak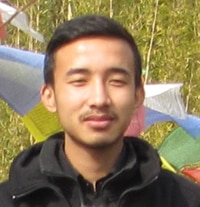 "Had there not been the Benoit Chamoux Foundation, I would never have been able to place me where I am today," said Pemba Sherpa, who had his graduation under the Foundation. Pemba is working as a Physiotherapist in India. "Until I pursue my Certificate Level degree in Physiotherapy I was funded and guided by the Foundation," Pemba said adding that he is receiving a valuable guidance by the Foundation whenever he is in need.
Pemba expressed his gratitude for the Foundation for not only the reason that it helps him but for also that his sister who is working as a nurse in the Civil Hospital in Kathmandu and many other Sherpa children who lost their parent while climbing have been able to stand on their own feet with the support of Foundation.
Another Ang Dawa Sherpa, who wants to be an environment sciences professor is also harboring his dream under the Foundation's help. Dawa attends his first year of a degree in Environmental Sciences Management at SCHEME College in Kathmandu. He has also finished an internship at the EvK2CNR Pyramid-laboratory at 5050 meters of the Everest and he is starting a new one with Professor Bupesh Adikary in the EvK2CNR office in Kathmandu.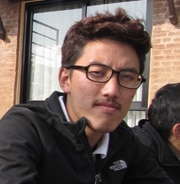 Mingma Diki Sherpa, who has finished class 12 and now attending the Physiotherapy course at Kathmandu University in Dhulikhel, too finds no word to express her gratitude towards the Foundation and its efforts to lift up the Sherpa children.
Mums are glad and happy too
Not only the students but their parents are also full of hearts to praise the noble works of Foundation. For Sonam Sherpa, whose elder daughter has been studying Physiotherapy at the KU and one son went to the United States of America, the life won't be that much easier if she wouldn't have got support of the Benoit Foundation.  "What we poor Sherpa widows in the remote village could do if we don't get support like these," she said adding, "There was no meaning of living for me after I lost my husband 18 years ago in Everest expedition. I was more in dismay with the future of my three children." "But the Benoit Chamoux Foundation has given me the meaning to live. My children received good education and I can laugh now forgetting all the bitter past".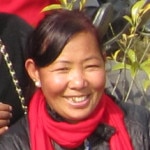 Dawa Sherpa also feels herself proud to thank the Foundation, its members and their noble works for the Sherpa mothers and children. Dawa, who lost her husband seven years ago, is running a small local restaurant near Thamel in Kathmandu. And, according to her, she managed to restart her life after the death of her husband with the help of the Foundation. Her elder son is studying in class seven with the financial aid of the Foundation. "What we speak or say in favour of the Foundation and its members will be few and minimal," Dawa said, adding that the Foundation has done a great job in shaping the future of Sherpa children and their mothers.
Attachments are rare and noble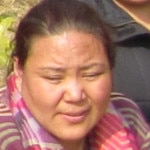 Ang Rita Sherpa, who helped Fabienne in establishing the Foundation and start its works in Nepal said the attachments between the Foundation members specially between Fabienne and the students is something rear and noble. "I have not seen such loyalty and attachments in any others, Sherpa who worked as an executive of Himalayan Trust for many years said, "Both Fabienne and children are attached to each other eternally". According to him, while Fabienne concerns each and every activities of children, the Sherpa children too consult her in every decisions. "There is an eternal bond between them," he said.
"I'm amazed and sometime even cannot understand their attachments," said Pasang  Sherpa Lama Chief Administrative Officer of the Himalayan Trust Nepal   that works as a bridge between Foundation, children and schools. "Every year Fabienne and the Foundation members visit children in Nepal. But whenever they are not here they always inquire me about the children, their studies, plans and about their family."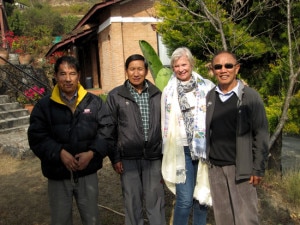 According to him, the attachments is not limited between Fabienne, the Foundation and children but the Sherpa mothers and whole community are attached to her and the Foundation. "There use to be nothing else in her talking other than the children and their future," Pasang questions, "How can one defines such attachment and love?"
-By Surendra Paudyal/Suvash Sharma